TVB actor, Kalok Wong (黃嘉樂), got married to his photographer girlfriend, Samantha Kong, on August 19. The couple held their wedding at The Ritz Carlton in Hong Kong. Kalok Wong and Samantha Kong also wore traditional Chinese wedding attire.
Samantha Kong was decked out in gold bracelets and necklaces while wearing a qun kwa. She revealed to the media that the qun kwa was worth over 200,000 HKD as it was designed and handmade by a local artist. Samantha also said the designer explained to her in detail that her type of dress usually takes about 10-12 months to complete, but as they personally tailored it for her, it only took 7 months.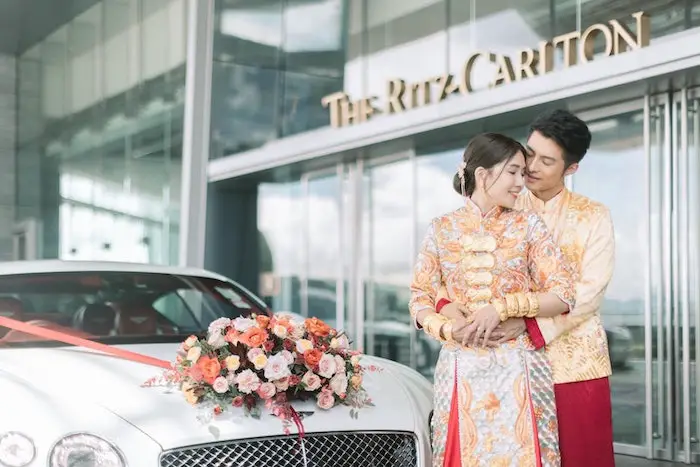 As for the wedding, Kalok Wong enlisted good friends, Kenneth Ma (馬國明), Natalie Tong (唐詩詠), Jazz Lam (林子善), Jack Hui (許家傑), and more to be his groomsmen. During the wedding door games played when picking up the bride, the groomsmen had to wear red pants with the exception of Natalie Tong. Kenneth Ma explained it had to do with their zodiac signs and only those born in the year of the pig or cow could play.
When asked if he had learned anything from these wedding games, Kenneth Ma frankly said, "No, not at all. When I get married in the future, the playing of the groom games will be completely cut out because I have gaming phobia."
As for Kenneth Ma's hairstyle that day, he left his bangs down instead of his casual gelled look. Kenneth Ma explained, "Actually, I woke up at 3 in the morning to gel my hair, but as I was in the process of doing it, it was a waste to gel it because today's male lead is Kalok. So I can't overshadow the host."