Former "CHUANG 2021" (创造营2021) trainee, Liu Cong (刘聪), went viral and was trending at #1 on September 6 with the hashtag, "Liu Cong comes out of the closet" after him and popular gay DouYin celebrity, Chen Lv (陈律), went public with their relationship.
On September 5, Chen Lv, had a birthday livestream with Liu Cong and 2 other friends. The two were behaving quite intimately. Liu Cong gave Chen Lv flowers and constantly tried to kiss him.
When fans asked if they were dating, Chen Lv avoided answering at first, but later admitted they both already had feelings for each other and were in a relationship. As this is Liu Cong's first time liking a boy, Chen Lv had no sense of security and there was a period of struggle. There was a time where they stopped contacting each other. It wasn't until a friend helped them talk out their love knots that led them to continue trying to get to know each other. Chen Lv then said, "We're still not together. Keep pursuing."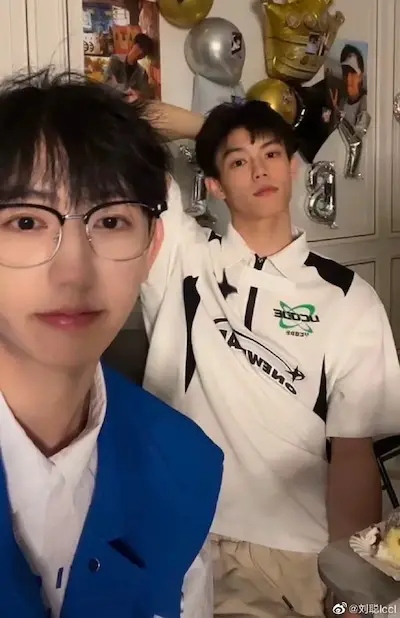 After the news about Liu Cong coming out went viral, most people expressed support for the couple. Chen Lv posted a picture of him and Liu Cong, saying, "The story is very long. Let's see about the future." with the hashtag, "Liu Cong Chen Lv" and tagged the "CongLv CP" super topic.
However, there were some people that were skeptical and accused Liu Cong of queerbaiting for clout and publicity especially since he previously said he was straight. One of Liu Cong's fansites made a post titled, "Why He Officially Announced It", saying Liu Cong only came out because he has been streaming on DouYin for three months and is constantly being yelled at by everyone for being straight and queerbaiting: "If he doesn't officially announce it, there is no way out. If he wants to make money, he can only queerbait or else there is no hype."
She continues saying, "Is he straight? If you've watched his streams a few times, you'll know his attitude has always been uncertain and not denying, that's why the situation has ended up like this. He is the most popular right now than he has ever been in two years. He is indeed popular, but everyone thought he was Key Liu Cong (rapper)."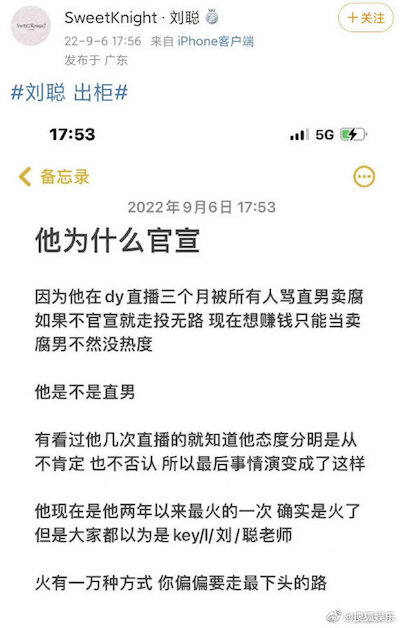 Chen Lv responded to the debate about his relationship with Liu Cong, saying, "Had no intentions to waste public resources. Yesterday's stream was just to celebrate my birthday, didn't want to announce it to the world. I woke up today and was confused seeing the hot search. I didn't think it would lead to such a huge debate. Love only has one orientation, that is what the heart desires. We've already been in contact for awhile. No one knows him better than I do. Lastly, I actually don't want our matter to be over-interpreted or used by ridiculous passersby to criticize. Thank you everyone."