YOUKU's current drama, "Lighter and Princess" (点燃我,温暖你), starring Arthur Chen Feiyu (陈飞宇)and Zhang Jingyi (张婧仪), is this year's latest hit modern rom-com. The series is adapted from novelist, Twentine's, novel of the same name. Arthur Chen Feiyu's character, "Li Xun", has warmed many fans and earned him the title of "November's Boyfriend". He has also gained popularity with over a million followers gained on Weibo since the series started airing.
Chen Feiyu and Zhang Jingyi's portrayal of an on-screen couple have also translated to their off-screen chemistry. In a recent BTS clip, Chen Feiyu and Zhang Jingyi are filming a kiss scene. After the kiss scene is done, Chen Feiyu goes near Zhang Jingyi's face and asked if she was shy. Zhang Jingyi shakes her head and denies she was shy about the kiss scenes. Who wouldn't be shy after those kisses?!
YOUKU has been very diligent in hyping up the series and got a bit too overzealous. In a recent post to promote the series, YOUKU included this in the caption, "Real couples indeed are different.", which was referring to Chen Feiyu and Zhang Jingyi. However, that part was later removed from the post.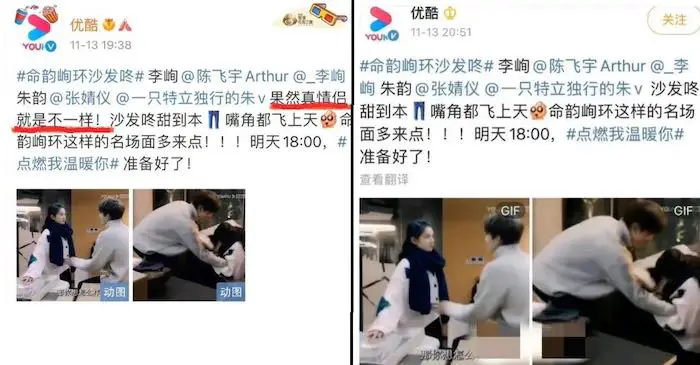 Credit: Weibo (1)