TVB actress, Katy Kung (龔嘉欣), recently hinted that she was in a relationship and hoped to become a bride in the Year of the Rabbit. Good friend, Grace Chan (陳凱琳), seemed to reveal the identity of Katy Kung's new boyfriend on an IG story, which revealed him to be a Japanese pastry chef, Tetsuya Matsuoka, based in Hong Kong.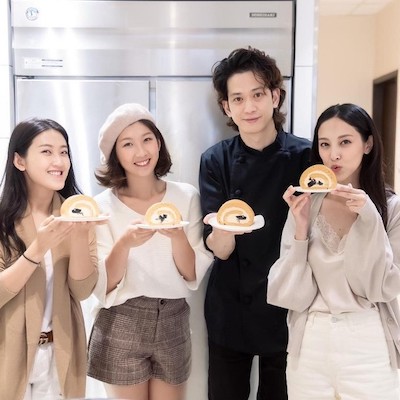 Grace Chan reportedly introduced Katy Kung and Tetsuya Matsuoka to each other and set them up. It's rumored Katy Kung and Tetsuya Matsuoka have been dating for two years and are even living together. Katy Kung was said to have invested in her boyfriend's pastry shop, making them business partners.
Tetsuya Matsuoka grew up in Nagasaki Prefecture in Kyushu Island. He started making pastries since he was 18. Three years later, he went to intern at a pastry shop in Fukuoka. When he was 24, he went to Tokyo to film commercials and walk the sky bridge. In 2013, Tetsuya Matsuoka went to Hong Kong to model and walk on the catwalk. By chance, he met several Japanese friends that planned on opening a pastry shop. In the end, he decided to stay in Hong Kong to develop his craft. Firstly, he opened pastry shops in Tsim Sha Tsui and Causeway Bay. There were rumors that Tetsuya Matsuoka once dated fellow TVB actress, Angel Chiang (蔣家旻).
In a recent interview with Oriental Daily News, Katy Kung revealed that she already has a partner she is getting to know better and he is not in the industry. However, Katy Kung clarified that she and Tetsuya Matsuoka are just business partners right now. When asked if Tetsuya Matsuoka has a chance, Katy Kung, replied, "Well, he can be someone to get to know better. I did call him the other day to apologize." Katy Kung explained that because she and Tetsuya Matsuoka don't have any family in Hong Kong, Grace Chan hosted them and said she wasn't trying to set them up as that is not her personality.