Mnet's global survival show, "BOYS PLANET", held its finale on April 20. After 12 weeks, 9 member group, ZB1 or ZEROBASEONE, was formed. The group is managed by WakeOne Entertainment and will last for 2.5 years.
The nine members of ZB1 in ascending order are: Zhang Hao (G), Sung Han Bin (K), Matthew Seok (G), Ricky (G), Park Gun Wook (K), Kim Tae Rae (K), Kim Gyu Vin (K), Kim Ji Woong (K), Han Yu Jin.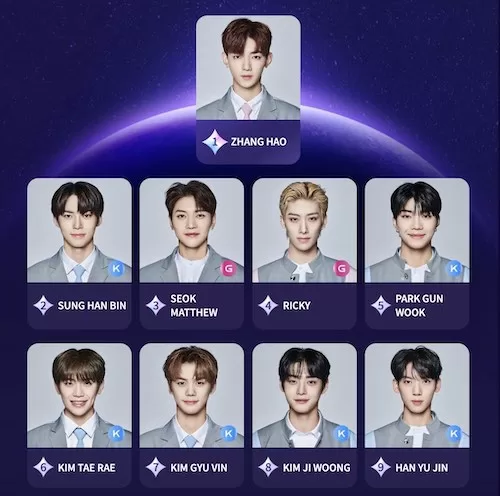 The final lineup was quite a shock as Sung Han Bin had been #1 for each of the survivor ceremonies, so he was expected to take the #1 spot. Zhang Hao was a favorite from the start as he was the center of the global trainees and was praised for his vocals. He also made history as being the first Chinese center in Korean survival show history.
YUE HUA Entertainment was also the big winner tonight with 4 of their trainees in the final 9 line up, which consists of Zhang Hao, Ricky, Kim Gyu Vin, and Han Yu Jin.
Jay Chang, who increased in ranks throughout the weeks, finished just at 10th place. KEITA and Lee Hoe Taek (Hui from PENTAGON), were previously in the top 9 as well, but finished 11th and 12th, respectively.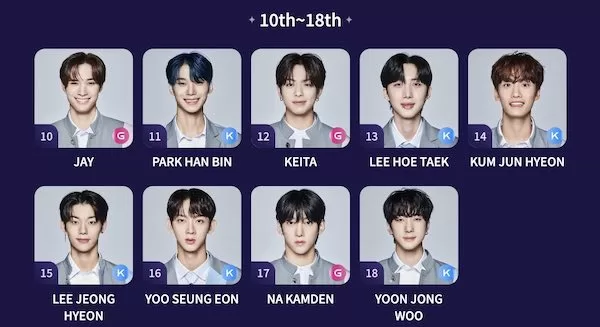 Credit: Mnet