After 9 years with the company, Yang Mi (杨幂) has left Jaywalk Studio. On May 8, Yang Mi announced she her departure from Jaywalk Studio, the company she helped found in 2014 with two of her managers at the time, Zeng Jia (曾嘉) and Zhao Ruoyao (赵若尧). She wrote, "Shared a past, each of us have our own futures."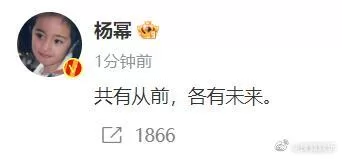 As one of the shareholders of the company, Yang Mi also helped discover talent like Dilraba, Vin Zhang Binbin, Gao Weiguang, and more.
This isn't that much of a shock given the previous rumors that circulated months prior citing that Yang Mi was leaving Jaywalk. After the news went public, Yang Mi's studio name changed from "Jaywalk Studio Yang Mi's Studio" to just "Yang Mi's Studio".