Taiwanese actress and socialite, Terri Kwan, (關穎) 42, announced she gave birth to her son via C-section on the 10th of this month.  This is Terri's third child and second son in four years.  The new baby has been nicknamed as "DD" by his parents and weighs six pounds and six ounces.
Terri married her CEO husband, Christian Chu (朱志威), who hails from Hong Kong, in 2013.  Terri and her husband also have a three year old daughter and a one year old son, nicknamed "CC" and "Phi Phi", respectively.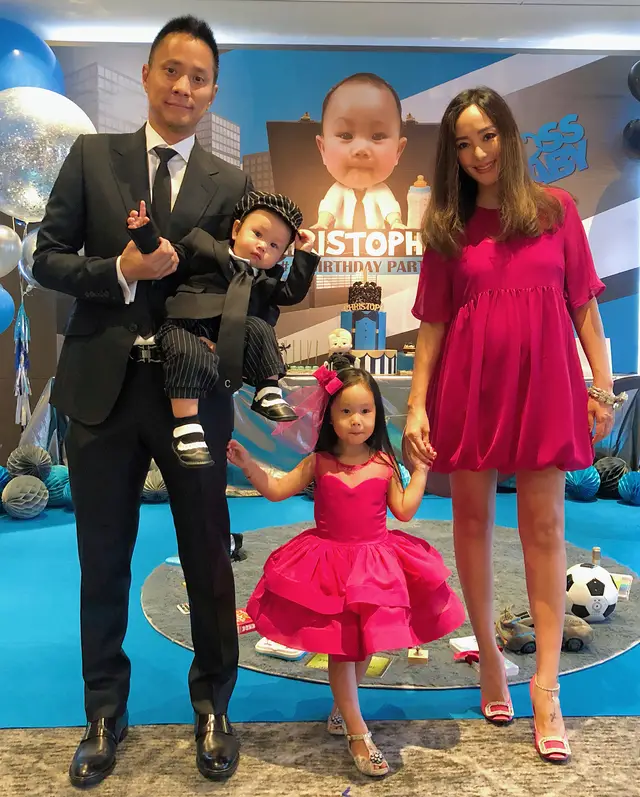 In an exclusive interview with Apple Daily Taiwan, Terri revealed, "The three of them look so much alike when their eyes are closed.  Even though this is my third child, I still had a lot of pain after the first few days.  Luckily, I am now much better.  I initially planned on having the baby on the 20th so that it would fall on the same day as his brother.  Phi Phi's is on 6/20 and DD's would be on 9/20, so that it's easier to remember, but there's nothing I can since the baby came early."
Credit: Apple Daily TW
Even though Terri is still going through post-natal care (坐月)*, she has already gone out to bring her daughter to school.  She says her daughter gets happy when she sees "DD" and exclaims, "I have a new younger brother!"  As for "Phi Phi", Terri is worried that he's still young so he might accidentally scratch "DD", so right now they are not together that often. 
Credit: Apple Daily TW
*In certain Asian cultures, mothers will be hibernating at home for at least thirty days after giving birth.  This is to help the mother to recuperate from the short and long term effects of giving birth.  During this time, the mother is to stay indoors and follow some of the traditions such as not washing your hair.  It's believed that the mother's body is more susceptible to getting sick when her hair is wet.  Nowadays, there are professional post-natal care centers throughout Asia, whereas traditionally mothers would be at home.