Sofia Paiva (麥嘉欣), the 21 year old of Chinese and Portuguese descent also known as "Miss Macau" was recently seen dating Kyle Lee (李嘉豪), the Hong Kong representative for the 2016 Mister International pageant.  The two were seen in intimate positions riding the MTR.  
Sofia came into the limelight when she joined the 2017 Miss International pageant representing Macau.  At the time, netizens were highly praising her looks and even got the title "Miss Macau."  Some even said she was prettier than the 2017 Miss Hong Kong winner, Juliette Louie (雷莊兒).  Sofia is currently in her second year of university in Macau.  Her career is much quieter since her reign as Miss Macau ended in July of this year. 
When asked by Apple Daily about being seen with a man on the MTR, Sofia admitted to dating someone, but didn't say it was Kyle.  Sophia says, "Yes, I am dating right now.  We've been dating for some time.  We're not purposely hiding our relationship.  I've posted his pictures before and he's filmed me on his IG story too.  I've revealed that I had a boyfriend before, but I guess not that many people paid attention."  
Before Kyle, Sofia was dating Macau artist, Kelvin Shen (沈柏彤).  However, Sofia announced she was single in March and that she was already long broken up with Kelvin before joining the Miss International pageant.  A source also tipped off Apple Daily that Sofia and Kyle were dating for a year already.  It's alleged Sofia was dating Kyle behind Kelvin's back.  Back in September last year, Sofia revealed she and Kelvin liked posting lovey dovey posts on Instagram.  At the same month, paparazzi filmed Sofia attending one of Kelvin's volleyball games in Hong Kong.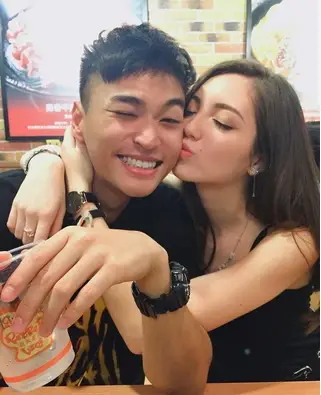 As for Kyle, he is 25 this year and stands at 6'1″.  Right now he is a volleyball player.  He also does modeling on the side.  After joining the 2016 Mister International pageant, he entered the entertainment industry.  He had a role in Viu TV's "Margaret and David – Ex"《瑪嘉烈與大衛系列前度》.  In January, he was in a musical with Eileen Tung (童愛玲), which involved intimate scenes between the two.