Chinese model, Naomi (康雅馨), is famous for having features of a mixed person and her high profile relationship with rapper boyfriend, Al Rocco, who was a contestant on the second season of "The Rap of China."  It was reported the two recently broke up, generating a lot of negative rumors about Naomi and her past.  Netizens spread rumors about her being a habitual cheater and even said she had a fling with Edison Chen (陳冠希).  These rumors affected Naomi and was said to have caused her to slit her wrists.  She ended up in the hospital on December 5th to treat her injuries.  
Air Wins Season 2 of "Rap of China"
Nick Chou Appears in Resurrection Battle in Next Episode of "Rap of China"
After the couple broke up, a netizen posted on Chinese social media site, "Douban" (豆瓣), saying Naomi appears to be really in love with Al Rocco in front of others, but is actually hooking up with other men in private.  This person alleges, "Her friends, industry people (aside from Al Rocco), know how many times she cheated on him.  When she was on "Road to the Runway" (天使之路), she slept with one of the workers from the show.  All the models and the crew members know about this.  You can ask each of the crew members to see if it's true."  This person also says she and Edison Chen had a "special relationship."  
"She's never had anyone to rely on." 
Another male contestant from "The Rap of China", KOZAY, also posted about Naomi on Weibo.  He says he has known her for twelve years.  KOZAY reveals the reason for his group breaking up and him breaking up with his girlfriend was all due to Naomi.  He reveals a lot about Naomi's past including being abused by an ex-boyfriend, her mother telling her to be a beer girl at a nightclub, and others.  KOZAY was also sympathetic towards Naomi for not having a wholesome family when she was younger.  She's never had anyone to rely on.  He says, "She is only 24 years old.  She still has a lot of opportunities to become a great woman."  He urged netizens to judge her less and be more understanding.  
"She doesn't have a home anymore."
When news of Naomi being in the hospital and all the crazy rumors started circulating, on the 6th, a person who claims to be her good friend posted a lengthy message along with pictures of Naomi in the hospital. She claims that Naomi was under a lot of pressure from all the rumors and netizens judging her.  She was so agitated that she started cutting her wrists and was sent to the hospital.  This person says, "She told mer her heart hurts too much.  She doesn't believe in this world anymore.  The psychologist told her to stay in the hospital to accept treatment and said she has serious signs of depression.  But she said she wants to go home.  However, she doesn't have a home anymore."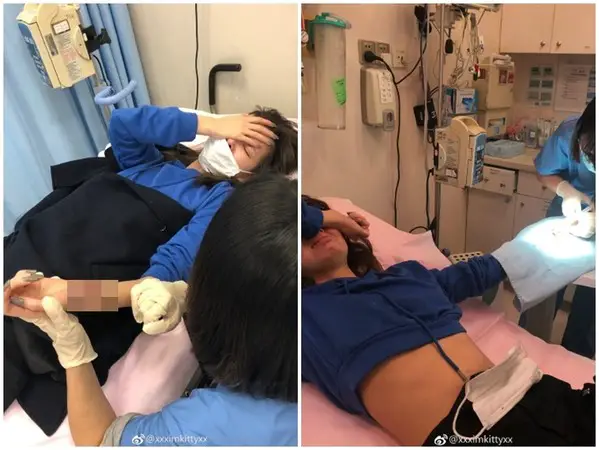 Naomi's management company issued a formal notice denying all the rumors.  They also denounced the netizens making up the storylines and giving Naomi an image of "someone who has affairs with countless men, and being unfaithful to romantic partners and friends."  The company will reserve their rights to go after those who continue to slander and defame Naomi.  
Credit: ETtoday.net, Naomi Weibo