Chinese actress, Jing Tian (景甜), and Chinese table tennis Olympic medalist, Zhang Jike (張繼科), have broken up after dating for over a year. Zhang Jike revealed they were dating after posting a picture on Weibo of Jing Tian and him holding hands on the beach last March. There were rumors of them breaking up circulating earlier this year, but the two didn't address them at the time. However, Jing Tian posted a message on Weibo today saying, "Thankful to have encountered each other. Hope everything will be fine from here on out."
Vin Zhang Binbin and Jing Tian Star in New Fantasy Drama, "Si Teng"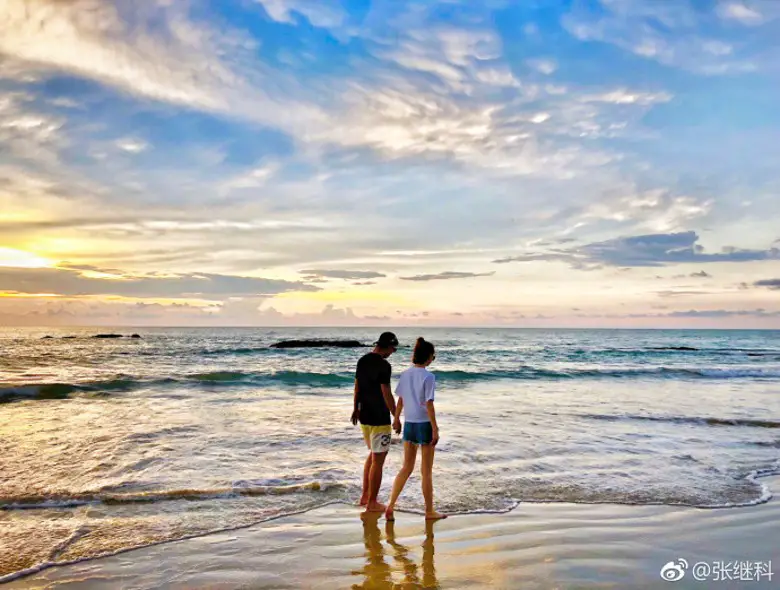 Jing Tian Blames Botched Double Eyelid Surgery Turned Her into "Pepe the Frog"
When the Chinese media reached out to Jing Tian's team to comment, they said, "Thankful for everyone's concerns. Everything that needs to be said is already said in her Weibo post." Later on, her work studio reposted her post and added the caption, "People come and go. Leave everything up to fate. Thankful for everyone's concerns.", subtly confirming the break up.
Jin Chen Decides Not to Continue Dating Zhang Jike on "Meeting Mr. Right 3"
It's reported the two realized there were a lot things they weren't compatible on after interacting with each other, resulting in constant arguments. In the end, it's said Jing Tian initiated the break up around April, but didn't announce it. A netizen discovered Zhang Jike and Jing Tian had removed their couple profile pictures from WeChat. He even got his couple tattoo removed as well. Zhang Jike was shown saying he would't be celebrating Valentine's Day in his fan club's group chat. When they talked about his love life, he showed his WeChat profile picture, which was no longer of him and Jing Tian and asked his fans, "Do you understand now?"
Zhang Jike and his team haven't responded to the break up news yet.
Credit: Sina Ent, Apple Daily HK, Zhang Jike Weibo, Jing Tian Weibo