China seems to be setting a new ban on dramas every month. Back in March, the Chinese National Radio and Television Administration (NRTA) sent the three streaming companies and executives into a frenzy when they introduced a new ban on genres such as "wuxia, fantasy, history, mythology, time travel, biography, palace struggles, and all costume dramas." At the time, the ban was ordering currently airing dramas in those genres to go off air and holding off on unaired dramas June. Luckily, the NRTA came to an agreement with the three streaming companies that eased some of the restrictions. However, the latest rumor circulating among Chinese netizens is that the NRTA is banning remakes, fantasy and costume dramas.
Update on China's "Costume Drama Ban"
China Rumored to be Implementing Ban on Period Dramas
The updated ban started in early June and had five new restrictions:
Ban on foreign intellectual property
Ban on tv drama remakes
Ban on remakes/ adaptations of Chinese intellectual property
Ban on costume dramas
Ban on fantasy dramas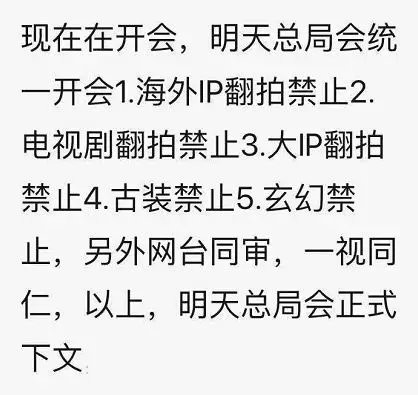 Aside from the ban on genres, there is also a long list of rules that dramas have to comply with in order to be approved. Some of them include:
Can't have children before marriage
Male and female leads each can't have more than three sexual partners altogether
Family members can't fight over family's fortune
Male and female leads can't commit crimes or exhibit illegal behaviors
Republican era dramas like "Shanghai Bund" can't be filmed.
Out of all the medical departments, only obstetrics and gynecology dramas can be filmed.
Can't mention medical/healthcare disputes
School dramas: no bullying, couples can't go beyond innocent puppy love, slackers can't fall in love with the straight A student, slacker student can improve their grades, but the straight A student can't turn bad or regress.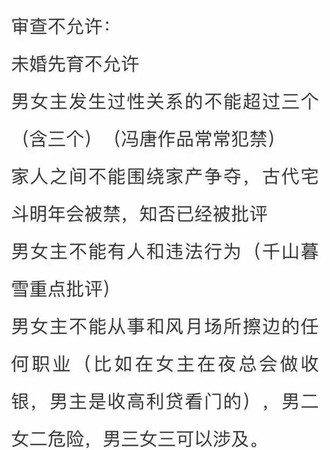 A veteran screenwriter had this to say about the rumored list of bans and restrictions: "This is just a summary of past experiences. All the details can be discussed further. Like the one about "Male and female leads each can't have more than three sexual partners altogether", if you directly write three, then it's definitely an issue, but if you conceal it like "He was with A before and then with B", this can pass."
Since the rumors started, many fans are worried about Dilraba(迪麗熱巴) and Vengo Gao's (高偉光) drama, "Three Lives, Three Worlds, The Pillow Book" (三生三世枕上書), as it meets three criteria of the updated ban: fantasy drama, adaptation from a Chinese novel, costume drama. The drama is set to air in the fourth quarter of this year, whether it'll be impacted is yet to be known. Other dramas such as the "Investiture of the Gods" (封神演義), was supposed to air the last 12 episodes on June 15, but all of a sudden they couldn't air the finale anymore. While "Novoland-Eagle Flag" (九州飄渺錄) was set to air on June 3, it was suddenly taken off the schedule. Representatives from the production companies didn't know the reason for taking it off air either. As of now, there is still no air date.
While the ban on remakes hasn't been confirmed yet, remake of Japanese comic, "Prince of Tennis" (網球少年) and Carina Lau's version of "Eighteen Springs" (半生緣), have been taken off the schedule. Fans are now worried if the remake of Korean drama, "Reply 1988" is still happening.
Credit: ETtoday.net, Weibo