TVB held their first round interviews for the 2019 Miss Hong Kong Pageant potential contestants. There is a lot of coverage on this year's interviewees due to many of them from overseas and a lot of them showed up today with name brand hand bags. One interviewee who received the most attention was someone with the nickname, "Bootleg Ashley Chu" (翻版朱智賢), Kayan Choi (蔡嘉欣). However, today is also Ashley Chu's 33rd birthday. She's been receiving a lot of attention for her role as "Hong Qiu" (康橋) in "Big White Duel" (白色強人). Recently, she has been posting a lot of bikini pictures of herself on Instagram.
Jackson Lai and Ashley Chu Suspected of Cheating on Their Partners, Recreating "OnSum Cheating" Scandal 2.0
Roxanne Tong Denies Dating Elaine Yiu's Ex-Boyfriend
One netizen posted a comment on one of her bikini pictures and said, "You look like Roxanne Tong (湯洛雯)" in English. Ashley Chu responded back, "Luckily, I have nth [nothing] like her!" The netizen responds back, "Why luckily?" Ashley Chu's response made it sound like she didn't want to be associated with Roxanne Tong. When hk01.com reached out to Ashley Chu about her response, she explained, "It's because I feel like everyone should have their own unique traits. It's just that I don't want to live in someone else's shadow, that's all."
Roxanne Tong Replacing Jacqueline Wong in "Forensic Heroes IV"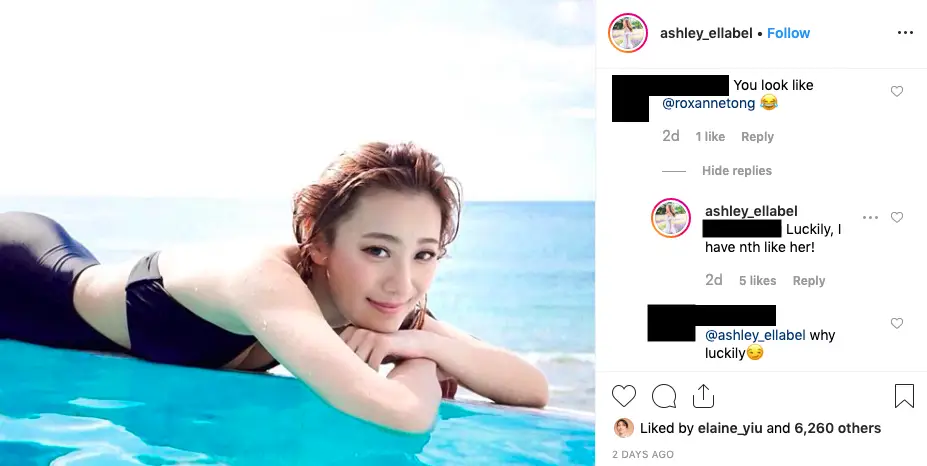 Roxanne Tong Being Overshadowed by Younger Sister with Her Good Looks
Do you think Ashley Chu was throwing shade at Roxanne Tong? Could she could've worded it better?