On the fifth episode of iQiyi's variety show, "FOURTRY" (潮流合伙人), the crew celebrates with a hearty meal after making 1 million JPY in sales for the day. Angelababy starts asking Kris Wu (吴亦凡) about his first job. Kris Wu reveals his first job was washing dishes in Vancouver and made $8 CAD an hour. He recounted how tiring it was and how his hands would get burnt from washing scorching pots. Kris Wu then quit being a dishwasher and worked as a server at a KTV.
Angelababy Shows Off Curves in "Placemat" Dress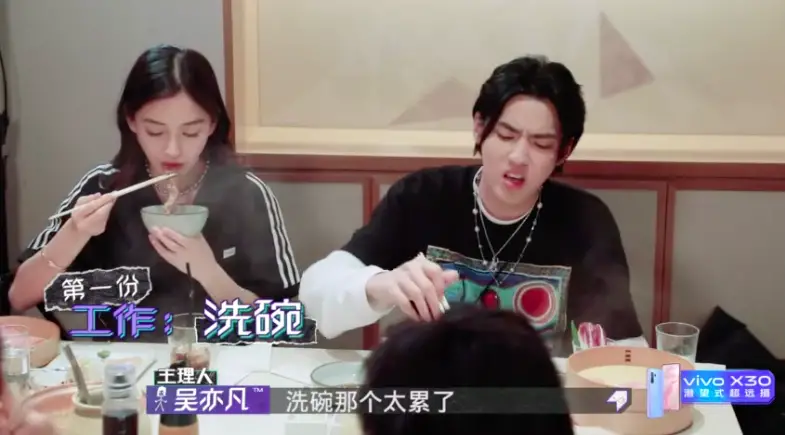 Angelababy Sparks Backlash for Photoshopping Picture of Herself at Event She Couldn't Attend
Angelababy then says she made more than Kris Wu from her first job. She revealed her first job was being a magazine model and made $600 HKD each time. Afterwards, she became a host for a program at the Hong Kong Disneyland and made 4,000 RMB a month, which was fixed income for two years.
Male Fan Uses Pick Up Line on Angelababy
There is a Type of Bromance Called Jay Chou and Kris Wu
Kris Wu then asks her how old she was when she started making money. Angelababy answered 15 or 16. Kris Wu was in disbelief and turned to Angelababy, saying, "How old? 15, 16? You're also really amazing." Angelababy then reveals, "I no longer needed to ask my family for money."
Studio Addresses "Hickey-Like" Mark on Kris Wu's Neck During NYE Performance