TVB's subsidiary, Shaw Brothers, has been working with Chinese streaming platform, Youku, to produce three installments of the hit "Flying Tiger" franchise. In the third installment, "Flying Tiger III" (飛虎之壯志英雄), aside from the regulars such as Michael Miu (苗僑偉), Bosco Wong (黃宗澤) and Ron Ng (吳卓羲), the series is also joined by some new faces such as Joe Ma (馬德鐘), Roger Kwok (郭晉安), Edwin Siu (蕭正楠), Elaine Yiu (姚子羚), and Sharon Chan (陳敏之).
Filming already commenced last month when the cast held its blessing ceremony and also revealing the cast. Sharon Chan's character is Eddie Cheung's (張兆輝) wife in the series. However, there are recent reports that Sharon Chan's character has been replaced by Alice Chan (陳煒) due to alleged political views in support of the Hong Kong protests that are strongly opposed by mainland Chinese and pro-China supporters.
Sharon Chan posted this picture back in November 2019, which depicted two children dressed in what some believed to be the gear Hong Kong protestors wore during last year's protests. The words in the background read, "Child, are you tired? Come to me." This picture was brought up last month and highly debated. Some Chinese netizens and pro-China netizens felt this was Sharon Chan's stance in supporting the Hong Kong protests and labeled her a "yellow ribbon artist". Chinese netizens on Weibo have been debating about Sharon Chan and demanded her to comment on the post.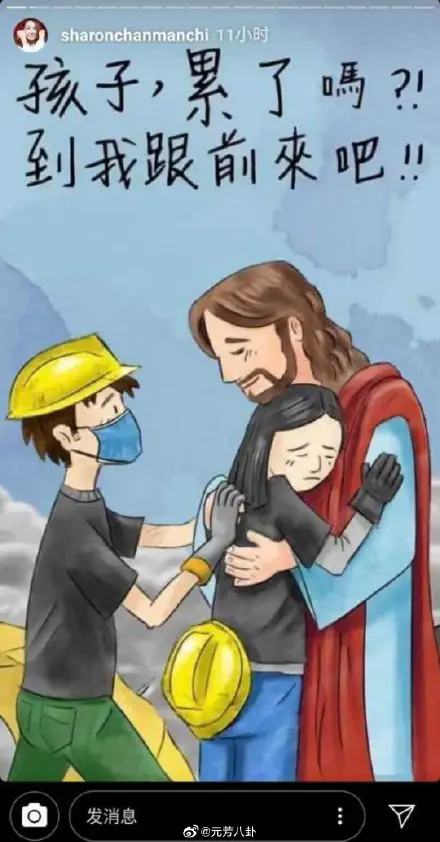 It's reported the cast and crew of "Flying Tiger III" didn't know about it until they saw Alice Chan on the film set. Pedestrians also encountered Alice Chan filming with Eddie Cheung and and Joe Ma in the streets. Sharon Chan hasn't responded to the rumors on her social media or to the media. Eddie Cheung hasn't responded to the rumors either. Alice Chan expressed, "I'll do what the company arranges. I am not sure about everything else."
Credit: Apple Daily HK, IG (1, 2)