Jerry Lamb (林曉峰), known for hosting TVB's "Super Trio" and acting as "Pou-pan" in the "Young and Dangerous" movie franchise, has reportedly split from his wife, Lily Hong (康子妮), of 18 years. There were rumors brewing these past few days that the couple had already signed the divorce papers last week. In addition, they have deleted pictures containing each other on their IG accounts. However, a lot of pictures of Jerry Lamb are still up on Lily Hong's Facebook account.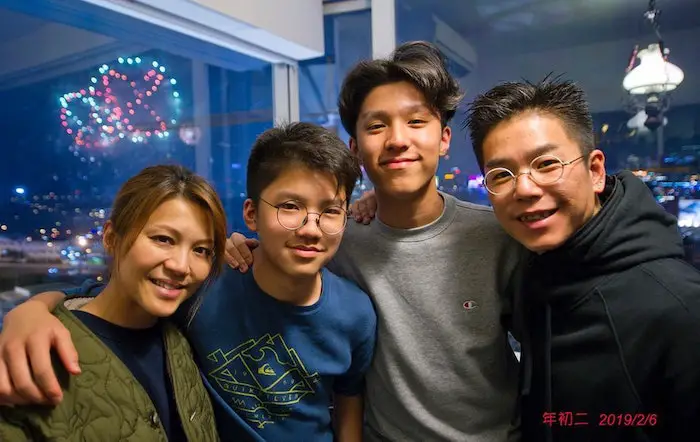 On September 11, Jerry Lamb posted this which led people to think it was an indirect confirmation about their divorce. He wrote, "Lily Hong and I met in 2001, got married in 2002. Everyone has always been sincerely investing into this family. It's like what I said in a previous interview. I hope to get married, have children, create my own family. It's Lily Hong who helped me complete my dream. It's her who completed me. The world is still chaotic. If you can find your own happiness and fortune, everyone should go search for it. No matter what, please use an open mind to give us space and time to work hard. I still believe this world is full of warmth and love. Everyone should work hard to look forward and accept every challenge in the future! I truly hope everyone doesn't forget their original intentions. Hope every family is happy."
There were reports the couple started having issues getting along with each other last year. A supposed insider stated Jerry Lamb was trying his best to fix the relationship, but Lily Hong was supposedly set on moving forward with the divorce. Additionally, there were rumors that veteran singer, Wong Yik, was the third party in their relationship. Lily Hong had previously filmed with Wong Yik for his music video and sang vocal harmonies at his concert. However, Wong Yik denied the rumors and said they once had dinner with his manager, but didn't have any more contact afterwards.
The rumors started to get out of hand and it seems Jerry Lamb wanted to protect Lily Hong. He made another post saying, "You and I not having any hate is already good. Why would there be other people pointing fingers. As long as you and I understand this decision is the best for everyone. Lily Hong, you have already sacrificed everything. In the future, you must work hard towards your dream. Even harsh sounding words will be coming out of people's mouths. As long as you and I and people who truly love us are well, then the world will be peaceful. Hope everyone will be tolerant and won't hurt others." Lily Hong was also spotted liking the post.
Jerry Lamb and Lily Hong have two sons, ages 17 and 15. There was some controversy when they got together. In 2000, Jerry Lamb's girlfriend of 12 years had suffered severe burns to her face and upper body from an accident from her glassware studio. It's said she had permanent scarring to her face. Jerry Lamb at the time said he would take care of her forever and didn't care about her looks as long as he loved her. However, in December 2001, Jerry Lamb and Lily Hong reportedly got together after working as MCs in Australia. In March 2002, Jerry Lamb had announced his break up with his long time girlfriend and then was spotted going out with Lily Hong. Jerry's Lamb ex-girlfriend publicly scolded him and aired his dirty laundry. Lily Hong was labeled as a third party several times, which she denied. In December 2002, Jerry Lamb and Lily Hong had a shotgun wedding and shortly had their first son.
Credit: hk.on.cc (1, 2, 3), Lily Hong FB