Kelly Cheung (張曦雯) and Him Law's (羅子溢) series, "The Witness" (木棘証人), will air its finale on November 13. In Episode 18, Kelly Cheung and Him Law's characters shared quite a passionate kiss scene for about 3 minutes. On November 12, Kelly Cheung was attending a promotional event for her upcoming series, "Legal Mavericks 2" (踩過界II), that will air on November 16.
When asked about her steamy kiss scene with Him Law, Kelly Cheung revealed she and her boyfriend watched it separately. Kelly Cheung said, "He said it was very sweet and passionate." On whether he was jealous, Kelly Cheung responded, "He might have been a bit jealous, but didn't say it out loud. He said not talking about the kiss scenes, you did very well. I told him not to watch it. I said I won't be watching it with you and won't be able to tell you when not to watch those scenes. Even then, someone would still put it on social media. But he's very understanding."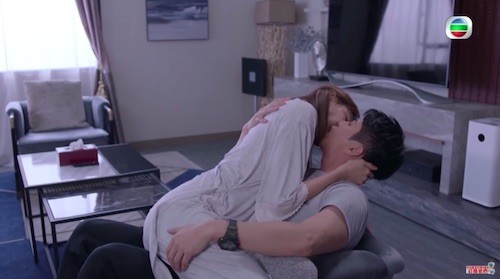 As for kiss scenes in "Legal Mavericks 2", Kelly Cheung revealed she has one with Vincent Wong (王浩信), which was staged based on positioning and one with Owen Cheung (張振朗). Kelly Cheung jokingly said she would kiss her boyfriend to make up for her kiss scenes.
Credit: hk.on.cc, Kelly Cheung IG