R1SE member, He Luoluo (何洛洛), was trending on December 2 when rumors were circulating that he went to an Escape Room with two female companions. They proved it was He Luoluo by comparing the outfit he wore from a video to the fan pics. However, according to the netizen's account, there were other people with them.
He Luoluo was trending back in September with his R1SE members, Ren Hao and Yao Chen, when it was rumored the three of them went to an escape room with a female internet celebrity. Fans were weary about the rumors as He Luoluo previously said in an interview that he didn't dare play an Escape Room. It turns out only Ren Hao had attended.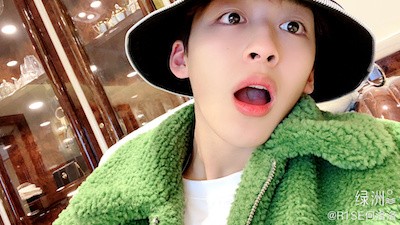 This time around, He Luoluo really did go to an Escape Room. He addressed the rumors and said, "Let it go, let it go…Everyone, don't blindly guess anymore. It's so hard to build team rapport with friends from the cast after attending acting class. In the end, it was exposed by you guys. If everyone really wants to watch it, pay more attention to the new series, "Love Cross" (心的转换).