Gillian Chung (鍾欣潼) and soon-to-be ex-husband, Michael Lai (賴弘國), were in a very public and messy breakup back in May. At the time, Gillian Chung's side reportedly claimed Michael Lai prematurely announced their split when they only signed a separation agreement. EEG had to send him a legal notice to stop sharing details about their relationship. There were also rumors and accusations that Michael Lai was unfaithful to Gillian Chung during their marriage, which he denied and threatened to sue.
It's reported the separation agreement expires on February 28, which means the divorce can be finalized. Hong Kong news outlet, Oriental Daily News, spoke with Gillian Chung recently about the pending finalization for the divorce. When asked if there is a chance to restore the relationship, Gillian Chung said, "No. I don't think I will get married again. Getting married once was enough. I don't think I am suitable to be married. There is no need for it."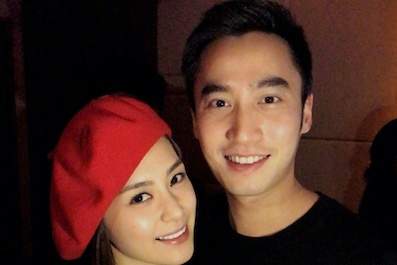 Gillian Chung revealed she and Michael Lai were in contact during their 1 year separation. She expressed, "It'll be more comfortable for us to be friends. I haven't thought about dating now anyways." As for rumors that Michael Lai sold Gillian Chung's bags and watches during their separation, she said, "I won't talk about things relating to the divorce. I have a calm heart and focused on work right now."
Even if she had suitors now, Gillian Chung said she wouldn't rush into another relationship. She explained, "To file for divorce, you first need to be separated for a year. I am very clearheaded during this period. I won't look for a boyfriend. I hope to complete everything first before welcoming new things." When asked about her tipping an internet celebrity during a live stream, Gillian Chung emphasized he was an EEG artist and that there are no romantic relations between them two.
When asked about the eggs she froze during her marriage with Michael Lai, Gillian Chung said her mother has rushed her to have a child, but she hasn't found a partner yet.