Long time good friends, Bobby Au Yeung (歐陽震華) and Jessica Hsuan (宣萱), were guests on TVB's variety show, "Bong Bong, Amigo!" (諸朋好友), which is hosted by Amigo Choi (崔建邦) and Sammi Cheung (張秀文). The two friends got to know each other after starring in the 1995 series, "The File of Justice IV" (壹號皇庭 IV). Due to their personalities, the both of them got along with each other really quickly.
Recounting their friendship, Bobby Au Yeung recalled their past filming experience. He said, "I remember when we were filming "A Recipe for the Heart" (美味天王), there is a scene where she gets me drunk. She is singing on one hand and taking my clothes on the other, pretending something between us. She forced me to date her. She was wearing a tube top with the blanket covering her. She asked the director if she needed to show more. Who would've thought the director said, 'No need, no need. Please don't.' This is the first time I heard an actor requesting to show more, but the director said there is no need!"
Jessica Hsuan responded, "I remember he even said I looked like a man." Bobby Au Yeung responded, "[From] the back. She had short hair so she looked like a man from the back." Jessica Hsuan responded, "You used to call me my nickname." Bobby Au Yeung responded, "Microwave", which the first two characters in Chinese, "微波", sounds like "small ball".
Jessica Hsuan also praised Bobby Au Yeung for being a gentleman. She explained that he wouldn't take advantage of her or look all over her when they filmed. Bobby Au Yeung recounted there was a year when Jessica Hsuan wore a dress with a deep split neckline that went all the way down to her belly. He asked Jessica Hsuan to let him look at her for 5 minutes, which he only took a quick glance. He explained that men have a natural tendency to look at women wearing revealing clothing and didn't want her to catch him looking at her later on and think he was perverted.
She also recounted another incident where they were sitting next to each other at some award show. Jessica Hsuan was also wearing a revealing outfit. Bobby Au Yeung suddenly asks Jessica Hsuan to help him pick up a leaflet from the floor. Jessica Hsuan said he purposely threw it on the floor. Bobby Au Yeung explained that he wanted to see if she put on tape. Jessica Hsuan then said she immediately agreed to it, while holding her chest. Bobby Au Yeung then said to her, "Ai ya, can't trick you."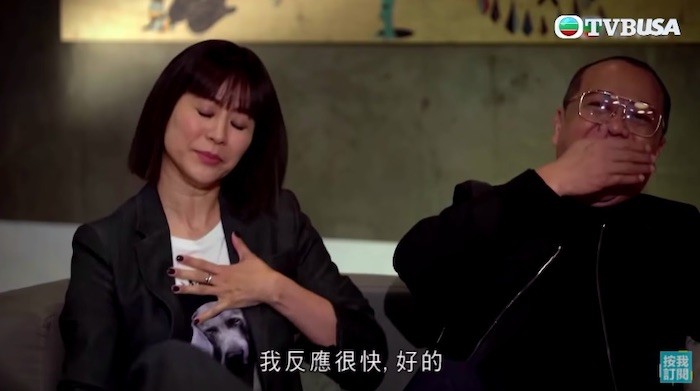 Credit: TVB, Jessica Hsuan IG