Former TVB actress, Queenie Chu (朱慧敏), has found her "the one". It was reported on January 7 that she and her cardiologist boyfriend, Dr. Jason Chan Leung Kwai (陳良貴), have already submitted their registration to get married. Their address listed Stubbs Road on the registration form, which is said to be an affluent neighborhood. Dr. Jason Chan is 42 years old, 3 years senior to Queenie Chu. He currently works at the Hong Kong Sanatorium & Hospital. He was previously in the news for helping comedian, Bob Lam, perform his angioplasty procedure.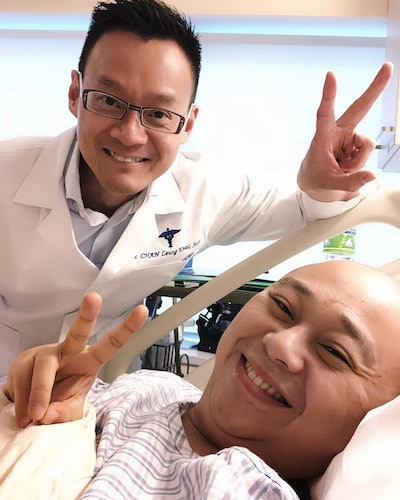 After she won first runner up at the Miss Hong Kong 2004 pageant, she joined TVB. She made headlines in 2005 when she was said to be in a secret relationship with Joey Leung who was dating Margaret Chung at the time. The media also spotted Queenie Chu and Joey Leung seemingly engaging in intimate behavior in the car. The two denied any wrongdoing and said they were just friends. However, when the pictures started circulating, Queenie Chu's image was shattered and Joey Leung was also labeled a scumbag and gradually faded away from television screens.
Ever since that incident, Queenie Chu focused heavily on work. She was dating a Taiwanese man at one point. Things were serious to the point her boyfriend proposing to her a few times. However, Queenie Chu wanted to focus on work for a few more years and they eventually broke up. Her next public relationship was with EO2 singer and actor, Eddie Pang (彭懷安). They dated in 2011 and were engaged in 2015. However, Eddie Pang was exposed to be cheating on Queenie Chu. She forgave him and pushed back their wedding. The relationship lasted until early 2019. Eddie Pang went on to marry his non-industry girlfriend, Ivy, in March 2020.
On the marriage news, Queenie Chu spoke to the media, saying, "Thank you everyone for your blessings. Dr. Chan and I sincerely wish you all good health, a happy and fortunate life. Thank you everyone for your support and love all along. Truly thankful to everyone." Eddie Pang also congratulated the couple.
Credit: hk.on.cc, hk01, Queenie Chan IG