iQiyi has already announced "Youth With You" alums, Li Ronghao (李荣浩) and BLACKPINK's Lisa, are returning to the show for the third season. Many fans were excited at Lisa's return to "Youth With You 3" (青春有你3) as a dance mentor. Rainie Yang (楊丞琳), who is one of the top celebrity fan girls, might've been too excited and revealed too much when she expressed wanting to meet Lisa.
THE9's Esther Yu Joins "Youth With You 3" as the Youth Tutor
Li Ronghao Returns to "Youth With You 3" as the Vocal Mentor
After Lisa's announcement was made on January 7, Rainie Yang posted, "Li-laoshi, Pan-laoshi, given our friendship, bringing me to meet Lisa shouldn't be too much, right?" and tags Li Ronghao, her husband, Wilber Pan (潘瑋柏), and the "Youth With You" super topic. Rainie Yang had previously praised Lisa for her dancing and said she felt very gratified seeing her perform.
BLACKPINK's Lisa Returns as Dance Mentor on "Youth With You 3"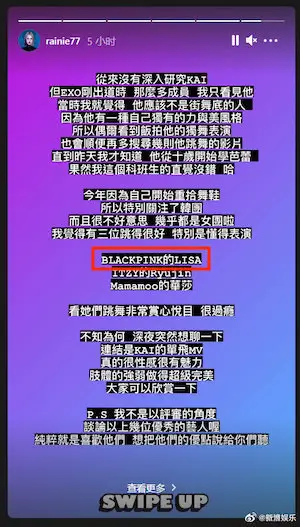 THE9's Esther Yu Gets Giddy After Adding BLACKPINK's Lisa on WeChat
Li Ronghao left a comment on Rainie Yang's post and said, "He will be officially announced tomorrow. [You] asked too early, aiya.", spoiling the reveal of Wilber Pan joining "Youth With You 3". Rainie Yang responded back to Li Ronghao, saying, "I saw the "Youth With You 3" hot trend and a bunch of people said these were the mentors. I thought he was officially announced. It turns out I am part of the melon-eating crowd."
Li Ronghao leaves another comment, tagging Wilber Pan saying, "Sorry, why don't you announce yourself? It's already like this. Don't wait."
"Youth With You 3" Trainee, Liang Sen, Shocks Lisa After She Sees Him and Then Mesmerizes Her After He Performs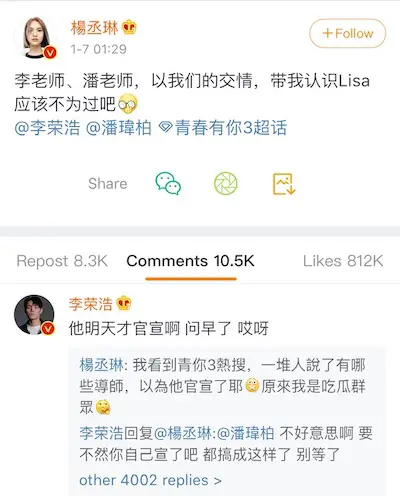 THE9's Esther Yu Apologizes for Unfollowing and Re-Following Lisa on Weibo
Thankfully, iQiyi were good sports about the early reveal. "Youth With You's" official Weibo account responded to Li Ronghao's comment and said, "To every laoshi, please leave some filling for spring pancake (referring to themselves as the Chinese name of Youth With You is "Qing Chun You Ni". Chun = spring)." They also posted a meme of a clown with the caption, "The clown turned out to be me."
BLACKPINK's Lisa Explains Why She Chose Cai Xukun's "Lover" for Her Mentor's Performance on "Youth With You 3"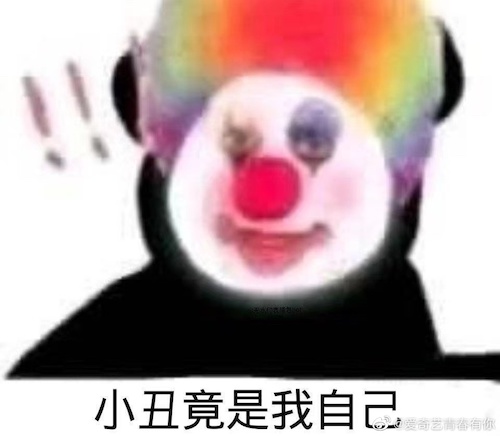 BLACKPINK's Lisa Talks about the Evolution of Tony Yu from "Produce X 101" to "Youth With You 3"
Prior to the official announcements, there were already rumors circulating Li Ronghao, Lisa, and Wilber Pan would be joining the show as mentors. So far, three of the rumors have come true. The PD is rumored to be Li Yuchun. Wilber Pan should be joining as the rap mentor. He has served as a mentor on iQiyi's "The Rap of China" for several seasons.