THE9's Esther Yu (虞书欣) can't seem to catch a break on social media these days. She has been quite active on her "xiaohao" (小号) account, which is an alt Weibo account celebrities use to talk about personal things they don't post on their official accounts. Esther Yu has previously expressed her love for BLACKPINK on her "xiaohao" account. She also showed off the gifts Lisa sent her including an autographed photo book that was signed "To: Shuxin".
THE9's Esther Yu, Dispels Discord Rumors with Fellow Member, Liu Yuxin
"Youth With You 2020" Trainee, Joey Chua, Most Afraid of Lisa, Changed Perceptions of Cai Xukun After Joining Show
There were rumors circulating the other BLACKPINK members, Jennie, Rose, and Jisoo, had created Weibo accounts ahead of their comeback on June 26. Some of the "yxh" (marketing) accounts had already followed those three accounts. Esther Yu followed Jennie, Rose, and Jisoo's accounts, which haven't been confirmed yet, using her "xiaohao" account. As she had already followed Lisa, she decided to unfollow her and then re-follow her so that their accounts would show up together in the first page of who she is following.
Esther Yu Responds to Criticism about Her Slacking Off in THE9's Debut Performance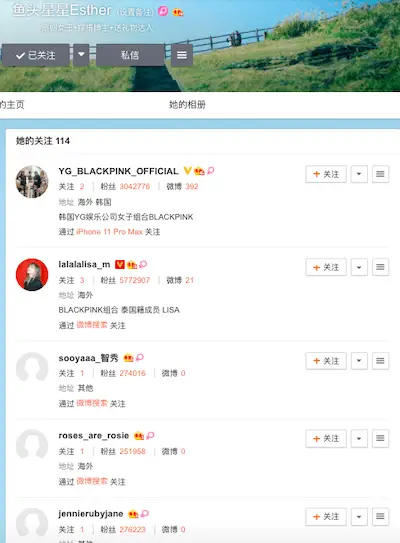 THE9's Esther Yu Apologizes After Fans Demand Student to Be Expelled for Calling Esther Yu "Deadbeat's Daughter"
THE9's Esther Yu Gets Giddy After Adding BLACKPINK's Lisa on WeChat
This action caught the attention of some of Lisa's Chinese fans. Esther Yu showed a chat dialogue from one of Lisa's fan. This person explained that unfollowing and re-following Lisa's account could deeply impact how the power of her account is weighed. It could "mess up" the power of Lisa's account after all the work her fans have done to grow it these past few months. This fan also hoped Esther Yu would consider the consequences of her actions before she does anything in the future and that what she does can influence a lot of other people to follow suit, especially during the comeback period.
THE9's Esther Yu and Ding Yuxi are Bound Together for Their Love of Books in "Moonlight"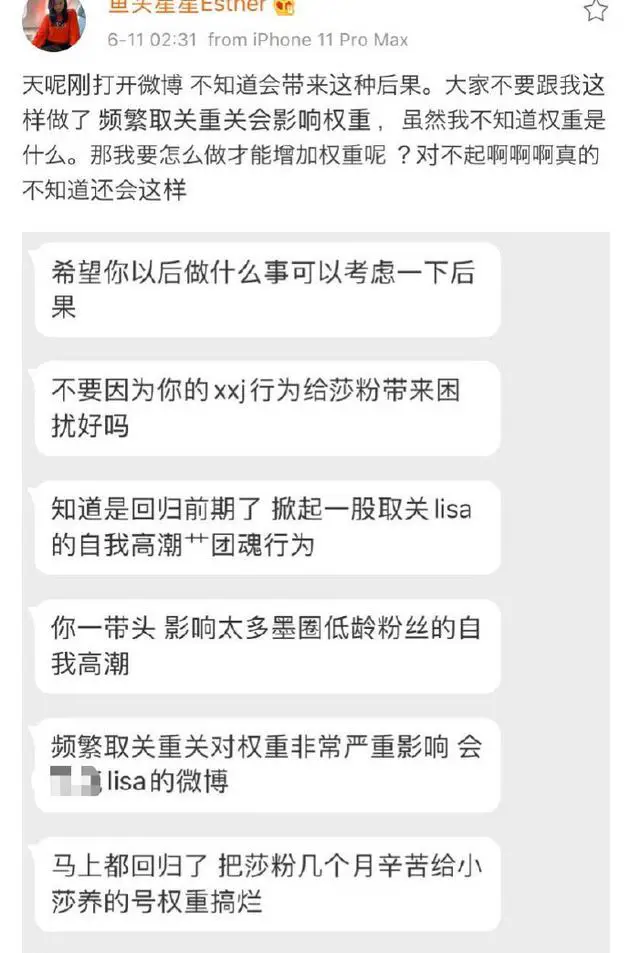 Esther Yu's Studio Apologizes for Following CP Account Shipping Cai Xukun and Esther Yu
Esther Yu included the following caption with the screenshot: "God, I just opened Weibo, didn't know it would bring about this kind of outcome. Everyone, don't follow what I did. Frequently unfollowing and following will impact how the power is weighed, even though I don't know what it is. What do I need to do to increase the power? Sorry, really didn't know it would be like this."
"Youth With You 3" Trainee, Liang Sen, Shocks Lisa After She Sees Him and Then Mesmerizes Her After He Performs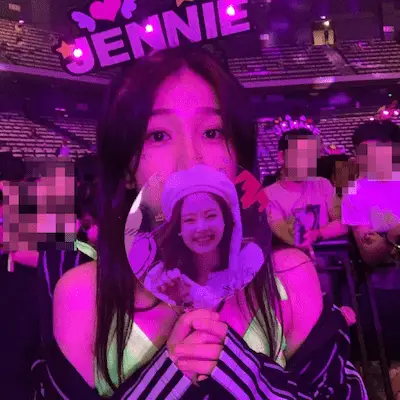 BLACKPINK's Lisa Explains Why She Chose Cai Xukun's "Lover" for Her Mentor's Performance on "Youth With You 3"
Esther Yu deleted that post and posted another with this caption: "Okay, I know now. Don't worry, everyone. We should stop unfollowing and then following Lisa-laoshi again. It will decrease the weight [of the account]. See you tomorrow at the livestream." Esther Yu also went back to like Lisa's posts on Weibo seemingly to help her account.