Just one day into their debut, there were already two hot trends focused on the new limited girl group, THE9. One was a rumor surrounding the votes were rigged when Dove, Liu Yuxin's (刘雨昕) sponsor, had prematurely announced she won first place. This was later clarified by Dove in an apology statement. The second rumor started brewing when Esther Yu (虞书欣) seemingly shrugged off Liu Yuxin's hand at the "Youth With You 2020" finale after the first and second places were announced.
THE9's Esther Yu Apologizes for Unfollowing and Re-Following Lisa on Weibo
Dove Issues Apology for Announcing THE9's Liu Yuxin Getting First Place Before Voting Ended
After closely looking at the video, it looks like Liu Yuxin was trying to hand her a tissue, but Esther Yu didn't notice it. So Liu Yuxin grabs her hand to slip the tissue through her plam, which Esther Yu did hold onto. After this scene, Liu Yuxin and Esther Yu hugged it out when they went up to their seats.
Liu Yuxin Gets Candid about Her Feelings and Changes Since Joining "Youth With You 2020"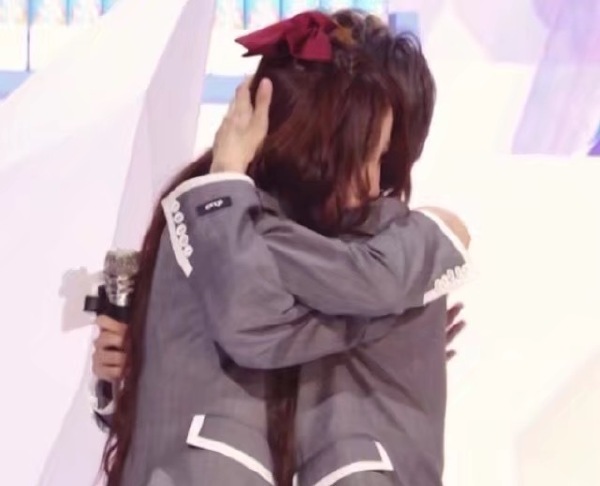 THE9's Esther Yu and Ding Yuxi are Bound Together for Their Love of Books in "Moonlight"
A netizen had posted about this with the hashtag, "Esther Yu shrugged off Liu Yuxin's hand". This person acknowledges that it was Liu Yuxin passing tissue to Esther Yu. She said she is a passerby who has never voted for anyone. After seeing the video, she was surprised and felt it was awkward. She said, "Forget about even thanking the person who passed you tissue out of kindness. You could've at least turned your body a bit to face her. The first time she passed it, Esther Yu saw it, but didn't take it. So Liu Yuxin could only slip it to her. In the end, Esther Yu didn't even glance at her one bit. After grabbing it, she quickly shrugged [off her hand]."
Esther Yu Clarifies Calling Snow Kong the Face of THE9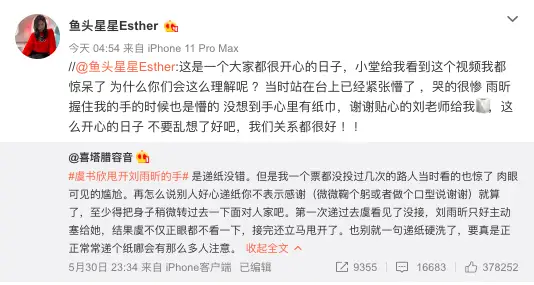 Esther Yu Responds to Criticism about Her Slacking Off in THE9's Debut Performance
Esther Yu responded to this person using her alt account and denied any discord between her and Li Yuxin. She said, "This is a very happy day for everyone. Xiaotang let me watch this clip and I was shocked. Why would you guys interpret it like this? When I was standing on stage, I was so nervous and confused and crying miserably. When Yuxin held my hand, I was also confused. I didn't think my palm would have tissue. Thank you considerate Liu-laoshi for giving me tissue. Such a happy day, don't think crazy thoughts. Our relationship is very good!"