Gao Jialiang (高嘉朗) debuted in 2012 as a member of K-Pop group, Cross Gene. After he left the group in 2013, he returned to China and joined "The Voice of China 4" (中国好声音 4), but didn't get selected. In between, he joined several shows, but it wasn't until Gao Jialiang joined "CHUANG 2019" as a trainee that got him noticed. Even though he didn't debut in the final group, R1SE, Gao Jialiang was recognized and had released music as a solo artist.
On January 27, he released his new song, "hongyi", but shocked his fans when he revealed the name of the song was after his girlfriend, who he had been dating since he was 19 years old. He wrote a long post dedicating the song to her and revealed, "Your appearance made me change from being a confused boy to becoming a man who takes responsibilities."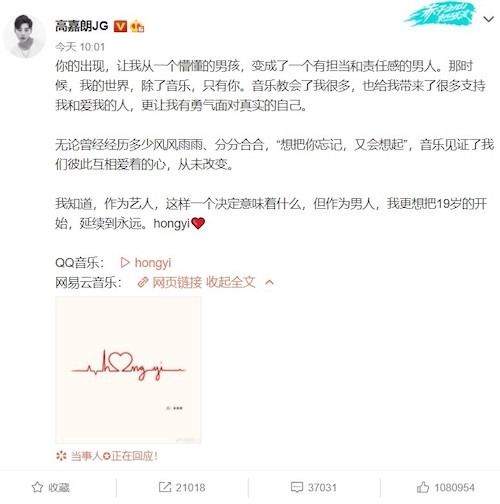 All this came as a shock to his fans and were devastated by the following discoveries:
The new song was dedicated to his girlfriend.
The song name is his girlfriend's name.
The background vocals for the song were done by Gao Jialiang and his girlfriend.
The album cover was designed by his girlfriend.
The cover art is of his girlfriend's name, hongyi, written with a heart.
The post he made announcing his relationship and the new song is his 521st post. The significance of "521" in China means "I love you".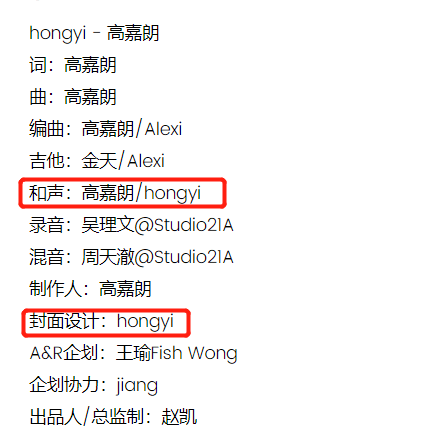 To top it off, fans discovered the account recipient from his online store is to someone named, Lee Ji Hong, which is believed to be Gao Jialiang's girlfriend. The money is directly deposited into her account. She is also listed as the executive chairman on his store. They also discovered his girlfriend is Korean, who learned Chinese in Korea, and had previously told people she had a Chinese boyfriend.
This sparked backlash among his fans as he previously denied he was dating on a few occasions. Fans also expressed they weren't mad at him for dating, but that he lied to them about being single for so long and for using up their resources that seems to benefit her. He also vehemently denied he was dating when he was exposed.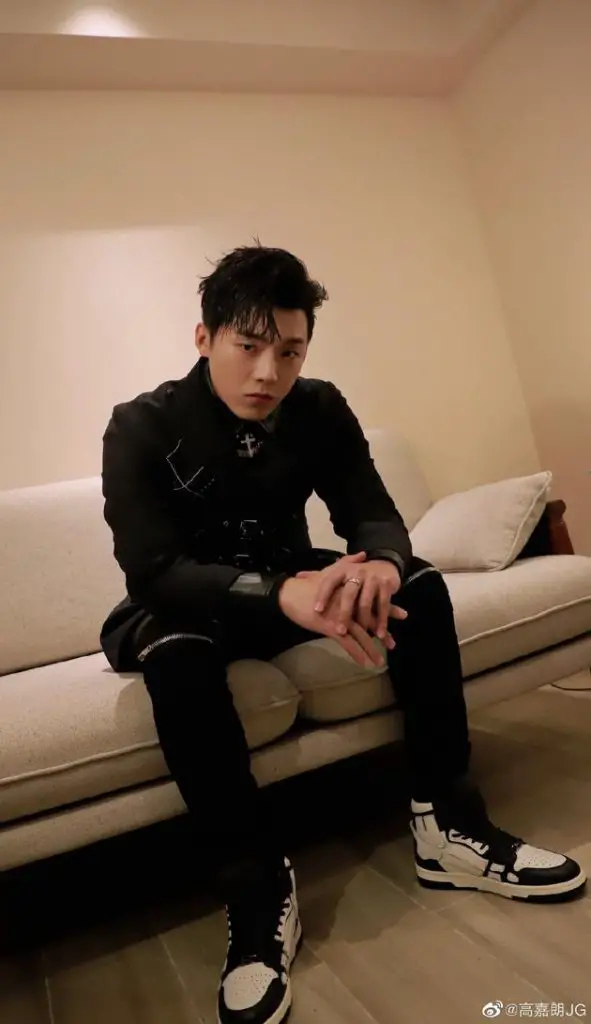 Gao Jialiang's staff member later expressed that his girlfriend is not in the industry and they are just innocently in love. They clarified Gao Jialiang is not married nor does he have a child. Gao Jialiang also apologized to a fan when they scolded him for not treating them like people and teasing fans for over a year about a song that was used to commemorate his relationship with his girlfriend.