On January 29, Xiao Zhan's (肖战) studio issued a statement about an incident where two men were causing trouble at their office.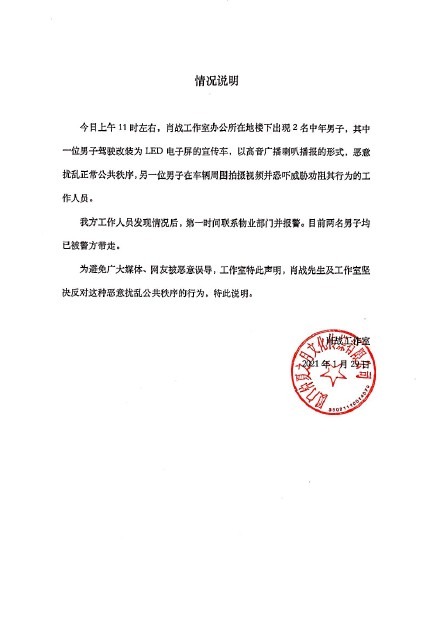 The statement read: "Around 11 in the morning today, two middle aged men showed up at the ground floor of Xiao Zhan Studio's office complex. One of the men was driving a promotional truck with an electric LED panel installed, using a high volume broadcast speaker to maliciously disrupt normal public order. The other man was in the car filming videos and threatening staff members who were trying to dissuade them from continuing their behavior.
After my studio's staff members discovered the situation, they immediately contacted the building management and called the police. At the moment, both men were already taken away by the police.
In order to avoid mass media and netizens being maliciously misled, the studio hereby declares, Mr. Xiao Zhan and the studio firmly oppose this type of malicious behavior in disturbing public order."
The messages on the LED panel were complaints about Xiao Zhan's studio and his management team.