Julius Liu Wei (刘维) transitioned from being a singer to a host in recent years. Aside from singing, the artist has dabbled in hosting variety shows and being a variety show regular. He is a cast member in the Chinese version of the Spanish show, "Your Face Sounds Familiar" (百变大咖秀), where celebrities do impersonations of iconic acting and singing performances. Last week, Julius Liu Wei and Yang Di trended for their rendition of Cai Xukun during his "Idol Producer" Days.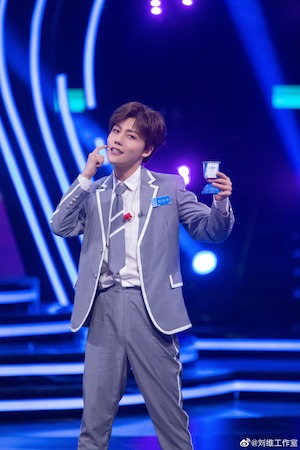 This week, Julius Liu Wei continued to trend on Weibo for impersonating another popular idol, Wang Yibo. This time he tackled Wang Yibo's debut performance of his song "No Sense / No Feelings" at the Hunan TV 2019 New Year's Eve Countdown.
Julius Liu Wei gained praise for doing a really good job impersonating Wang Yibo in a serious fashion since the show is about comedic performances. A day after the performance aired, Julius Liu Wei gets recognized for his performance from Wang Yibo himself. Host, Shen Mengchen, who is familiar with both Julius Liu Wei and Wang Yibo, revealed on another show that she sent Julius Liu Wei's performance to Wang Yibo. He responded, "Who is this?" Shen Mengchen told him, "That's Liu Wei impersonating you." Wang Yibo responded, "My god, this is too similar. It's only missing the water." In Wang Yibo's performance, there was water on his stage.
It's not such a surprise for Julius Liu Wei to be able to sing and dance as he trained at Korean entertainment agency, JYPE, in 2005. He revealed he was the first person to train at JYP and Hyuna was even his back up dancer before.