The Lunar New Year starts on February 12 this year. The most watched event during this time of the year is the state run CCTV's Spring Festival Gala that draws millions of views each year. Prominent celebrities are invited every year to perform at the event. It's also viewed as a privilege and somewhat of a status indicator to attend the Spring Festival Gala.
Wang Yibo (王一博), who had a great 2020, was finally invited to CCTV's 2021 Spring Festival Gala for the first time in his career. It's a special year for him as it's the Year of the Ox, which is Wang Yibo's Zodiac year. He was a guest on a Spring Festival pre-show and in typical Wang Yibo fashion, when asked to do a 5 pose selfie, he did the exact same pose, but changed his hand gestures from 1-5.
When asked about his emotions and condition when he first got the invite to go on the show, Wang Yibo said, "Definitely very excited and happy because I've watched the Spring Festival Gala since I was young and also hoped I can get on the show." Wang Yibo told his parents the good news immediately and they were also very happy, saying, "Very happy! That's great, that's great!" As a fan of doing magic tricks, Wang Yibo hopes to participate in the magic segment next time.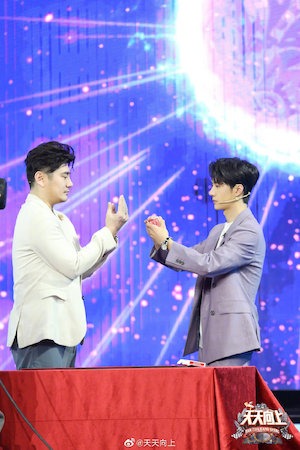 On how he normally spends the Lunar New Year holiday, Wang Yibo said he returns home and eats New Year's dinner with his family and attends gatherings with his old classmates. When asked about his favorite dish to eat at home, Wang Yibo responded with Coca-Cola chicken wings and Luoyang's mutton soup.
As for his wishes in 2021, he will continue filming and hopes everything will be safe and smooth. He will also continue joining motorcycle competitions and hopes to perfect his skateboard skills.