William Chan (陳偉霆), Li Yifeng (李易峰), and Zhu Yilong (朱一龙) made headlines when the three of them were spotted playing at an Escape Room together after a CCTV Spring Festival Gala rehearsal. The trio were recently interviewed by Sina Entertainment individually and each person provided insight on their experience together.
When Sina Entertainment first asked William Chan whether the three of them often played Escape Room together, William Chan's first response was, "First time. Was it photographed by you guys?" Sina Entertainment said, "No, it was taken by paparazzi." William Chan responded, "Sina doesn't have paparazzi?" Sina responds back, "No, we are a legitimate media outlet. We won't secretly film you. If we film, we would do it open and honorably."
Going back to the question of Escape Room, William Chan said it was their first time playing together, but he has played it many times. As for the best player, William Chan said, "Of course it's me." When asked who was the one that held them back, William Chan said it wasn't convenient to say. However, Sina revealed Li Yifeng told him he was the more cowardly one out of them three, but he also said Zhu Yilong wasn't that much better than him. He said, "Zhu Yilong and I are about the same. He isn't that gutsy either, but he is calmer!"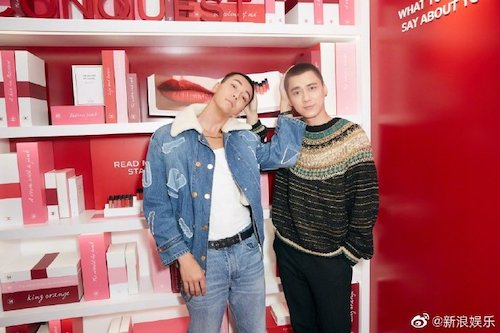 Zhu Yilong confirmed the reports in his interview and said, "Li Yifeng is a little less gutsy. He doesn't scream, but he stares blankly in his position. William Chan will be a bit more courageous." Zhu Yilong revealed he and William Chan had previously met before, but this is their first time playing together.
After hearing Li Yifeng's testimony, William Chan told Sina, "He is an honest child. I didn't think Li Yifeng would be this honest." On whether Li Yifeng held them back from progressing, William Chan revealed, "Not only did he held us back, he kept holding us until I had no way to progress further." William Chan said the two of them should play a few more times before they go with him again.
Credit: Weibo (1, 2, 3, 4, 5, 6, 7)