Show Luo's ex-girlfriend, Grace Chow (周扬青), made her debut in her first variety show, "FOURTRY 2" (潮流合伙人 2). Other cast members include William Chan (陳偉霆), Fan Chengcheng (范丞丞), Nana Ouyang (歐陽娜娜), and THE9's Liu Yuxin (刘雨昕), where they operate a clothing store.
On Episode 11 that aired on February 12, the cast is tired from operating the store the whole day. Nana Ouyang expressed she was so tired that she didn't want to wash her hair. Grace Chow immediately responds, "My hair can go a week without being washed because it's dry."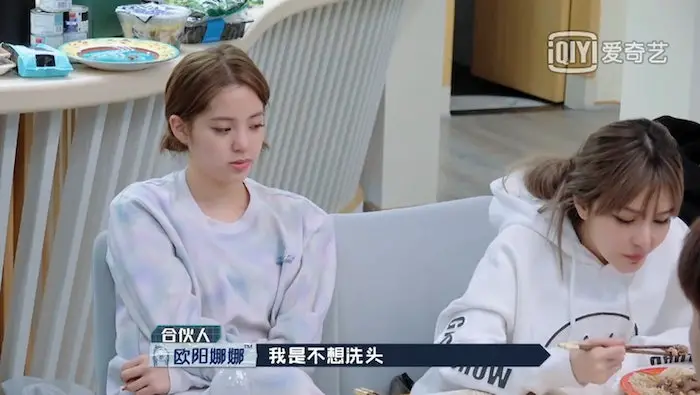 This shocks the two male cast members, Fan Chengcheng and William Chan. The latter asks her, "You've tried not washing your hair for a week?", while Fan Chengcheng says, "You can't be washing your hair only three times in 20 something days." Grace Chow laughed and explained, "That's why you see me wearing hats everyday so I don't have to wash it." William Chan responds, "You mustn't take off your hat in front of me". Fan Chengcheng then says, " I must break down how many times you wore a hat on 'FOURTRY 2'."
Girls with long and processed hair will understand the struggle. It's actually not good to wash your hair so often as it washes out the natural oils and makes it really dry. This is why the other girls weren't phased by Grace Chow's comment.
Credit: iQiyi