Rumors were circulating Huang Xiaoming (黄晓明) was clubbing with multiple women during the Lunar New Year. The rumors escalated when Angelababy made this post on the third day of the Lunar New Year, which landed on Valentine's Day this year: "I heard today is a Westerner's holiday. Good thing I am a Southerner. Wishing everyone a happy third day of the Lunar New Year." Many people viewed this as Angelababy was spending it alone.
On February 16, a netizen claimed they saw Huang Xiaoming at a private room at a night club partying with over 10 women. They also showed a picture of Huang Xiaoming allegedly at the night club. Due to the pictures circulating, netizens started bringing up old rumors that alleged Huang Xiaoming was clubbing in 2015, when Angelababy was pregnant in 2017, and in 2019 during his son's birthday.
On February 17th, Huang Xiaoming's studio released a statement denying the claims of him clubbing. They said he has been filming in Chongqing since February 4. He returned home to Qingdao on New Year's Eve to see his grandmother and then returned back to filming in Chongqing. As for the old rumors of him partying at a night club, the studio said they have already denied the rumors at the time. They emphasized once again that those venues weren't nightclubs and called it normal friends gathering together.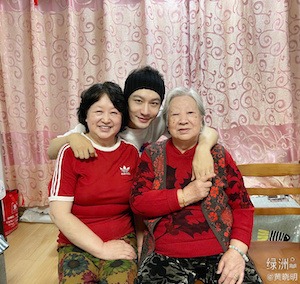 The studio also asked netizens to delete the related content and have already enlisted a Beijing law firm to take legal action against the perpetrators who started the rumors.