Fans were left heartbroken when hot favorite "CHUANG 2021" trainee, Kazuma, suddenly announced his withdrawal from the show in March due to family reasons. Despite his short stint on the show, Kazuma had already amassed a sizable and dedicated fanbase in China. However, since he returned to Japan, he has been very quiet and hasn't updated any of his social media accounts, leaving fans worried. After the "CHUANG 2021" finale on April 24, Kazuma finally updated his Instagram to dedicate a post to his Intersection members', Caelan and Mika, on finishing the show.
Kazuma's popularity seemed like it never waned as the day he made that Instagram post, he trended in the top 10 of Weibo's hot search list. However, on April 26, Kazuma's official Chinese fan club issued a statement calling out Tencent and "CHUANG 2021" claiming Kazuma's contract forbade him from promoting in China three months after the competition is over.
The fan club explained ever since Kazuma withdrew from the show on March 8, they've been actively looking at different avenues to pave a way for Kazuma to to get resources in the future. Due to the restrictions of the contract, they couldn't do much until the competition was over. However, when they found out about the 3 month clause, they've said it has never been a stipulation for the contestants in CHUANG history.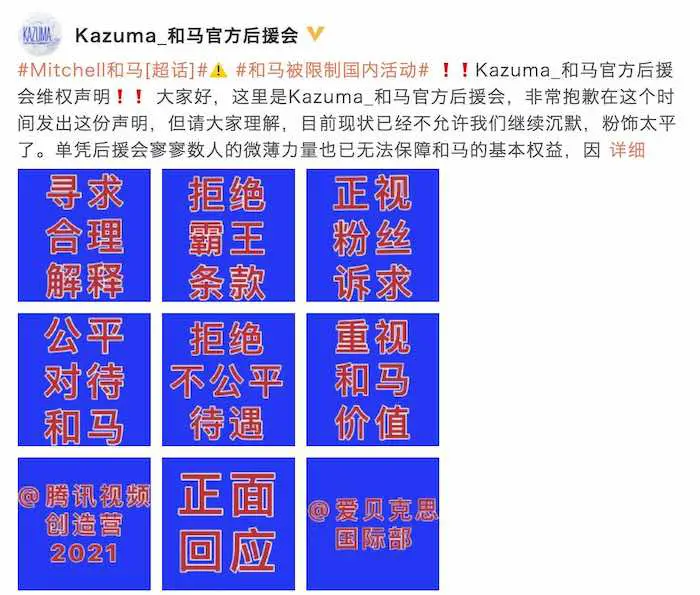 Additionally, they put forth three questions to Tencent and CHUANG 2021:
Why is Kazuma restricted from any type of promotions in China after the show ended for 3 months? This includes commercial events, film and tv, music, variety shows, and more, which has led to all currently available projects forced to come to a halt.
Why is Kazuma deprived from his right to use Weibo the next three months since the competition finished?
We have already silently endured the result of the show due to the show and the company not being able to reach a consensus. Why is that the innocent artists and the fans suffering a second time because of the companies' affairs?
Kazuma's fan club also called out his management company, Avex China, to protect his rights and reject Tencent from blocking Kazuma to promote in China in the upcoming three months and the unfair treatment he is getting.
Avex nor Tencent have yet to respond to these claims.