"CHUANG 2021's 11 member international boy group, INTO1, debuted on April 24. The group has garnered a lot of global interest due to the international theme and the 5 foreign members in the group: Santa, Riki, Mika, Nine, and Patrick.
INTO1 Warns Netizens from Eating Too Much "Melons" Regarding Recent Controversies Surrounding Members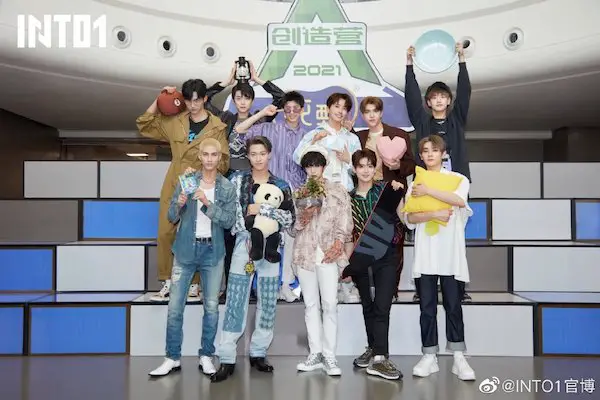 As expected, the group already has already amassed a sizable fan base. On April 26, it was the group's first time traveling together to fly to Beijing. A lot of fans had been waiting for the group at the airport. However, it seems along the way, the situation got out of hand. INTO1's official Weibo issued a statement saying there were fans crowding at the airport. They also asked fans not to chase after INTO1's cars or follow their travel itineraries, urged them not to crowd the members, and not to use illegal methods to obtain each member's personal information or the group's travel itineraries.
However, in the comments section of INTO1's statement, were mostly comments from Liu Yu's (刘宇) fans asking Wajijiwa Entertainment, the group's management company, to respect Liu Yu's position as the center of the group and not to blur the lines that make the center position distinctive. They included a group picture with a line split in the middle between Santa and Liu Yu and added a caption, "This is what's called the middle". The other top comments include, "Protect Liu Yu well" and "Don't blur Liu Yu's center position."