Mother of INTO1 member, Mika, was trending on Weibo on April 29, when Chinese netizens dug up an old Instagram post of hers that they deemed was insulting to China. It goes back to an old post Mika's mother shared of a "naughty child" cutting up the face from a bunch of Chinese currency all stacked on a table and she had included the caption, "It's funny."
Netizen DMs Mother of "CHUANG 2021" Trainee, Mika, Asking If He Has a Girlfriend After They Discover His Interactions with the Same Girl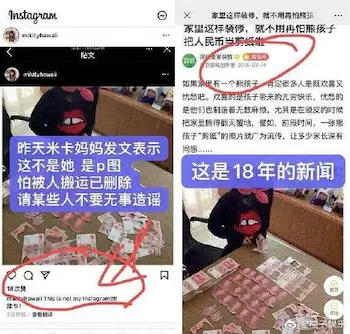 INTO1 Warns Netizens from Eating Too Much "Melons" Regarding Recent Controversies Surrounding Members
For some Chinese netizens, they thought this act was insulting to China and left derogatory comments saying, "Other people really don't respect China. They're just earning Chinese money.", "It's so suffocating.", "Don't come to earn Chinese money." Mika is originally from Hawaii and is half Japanese. He has been promoting in Japan as a member of the group, INTERSECTION.
Mika's Anti-Hate Site issued a statement clarifying that they had already communicated with Mika, his family, and his company. Mika's mother only saw the picture on a platform. At the time, she thought the child was too bratty and silly and just wanted to share it with her friends to vent. As Instagram doesn't allow direct reposts, she uploaded the screenshot directly and confirmed that the actions in the picture weren't carried out by anyone from Mika's family. After communicating with Mika's mother, she realized the behavior in the picture was inappropriate. She regrets sharing the picture and apologized for not being cognizant of the potential bad social impacts it has for spreading this type of behavior. To avoid further misunderstanding, Mika's mother has already deactivated her Instagram account and says she will be cautious of her words in the future.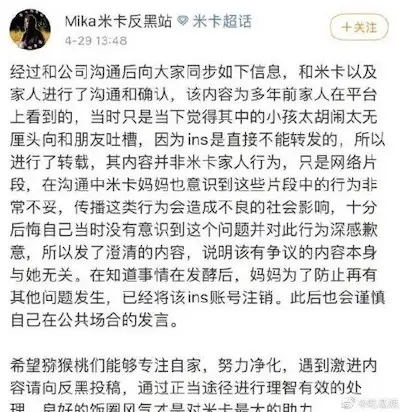 This seemed to be an attempt to smear Mika and his mother as that picture was state news in 2018 and was circulated in China at the the time to reference a "naughty child's" behavior. Mika's mother attempted to clarify the original post was not hers and later deleted the post to avoid any further confusion. However, the incident already went viral and "Mika's mother" was trending on Weibo. Many of the comments came to the defense of Mika and his mother saying that this was old news from China talking about the behavior of "naughty children".