Former TVB actress, Belinda Hamnett (韓君婷), filed for bankruptcy after amassing a 6 figure debt to cover her late mother's medical bills. It was revealed TVB artist, Frankie Choi (蔡國威), offered to let Belinda Hamnett live in his home for 2 years to help save money. However, she later revealed she had moved out after starting afresh. Frankie Choi's response on Belinda Hamnett suddenly moving out was, "She can take care of herself, support herself.", but stated that he didn't know her new address.
Former TVB Actress, Belinda Hamnett, Filed for Bankruptcy Due to Late Mother's Medical Bills
Because of this, there were rumors that Frankie Choi had "evicted" Belinda Hamnett after she filed for bankruptcy. There were reports Frankie Choi requested Belinda Hamnett to move out in one week. The two have unfollowed each other on IG and Belinda Hamnett have deleted their pictures together.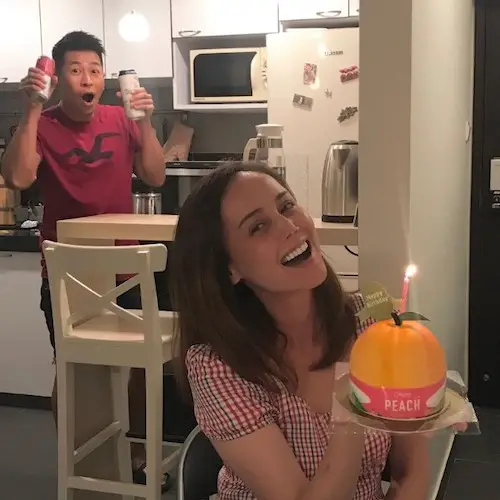 Belinda Hamnett later revealed that after the reports about her bankruptcy came out, Frankie Choi asked her, "When are you moving out?". She decided to move out to avoid having to deal with his attitude. Belinda Hamnett says Frankie Choi invited her to move in with him after she lost her mother and said that it would be convenient to take care of her. She agreed after considering it for a few days. Belinda Hamnett says she didn't freeload off of Frankie Choi as she paid him a four figure amount each month for living expenses and split the housework.
Frankie Choi responded to the reports about him "evicting" Belinda Hamnett, saying that he had always tried to help her within his limits. When she first moved in, Frankie Choi said he had already told her that she didn't need to pay for the utility bills. Belinda Hamnett then called Frankie Choi "a big fat liar" after he posted a long essay defending himself. She also said she wouldn't have exposed any of this until he started talking about it. Both parties have said they won't respond to this matter anymore.