Drama continues in the "Youth With You 3" (青春有你3) fandom even after the show was officially cancelled on May 9. On May 24, former trainee, Liam (Yan Xi 彦希), was accused by the store owner of stealing a ring from their store. The store owner uploaded a clip of the security footage of a man trying on a ring and when he saw the security guard come near him, he put the ring down. He picked up another item until the security guard looked away and then picked up the ring and walked away where the video ends. The store owner said they didn't realize the person was Liam until a friend revealed it to them.
Later on, the store owner left a comment on their post saying Liam's team had already reached out and added each other on WeChat to communicate. However, the store owner told fans to stop trying to "brainwash" everyone about Liam's actions and that it wasn't about the money.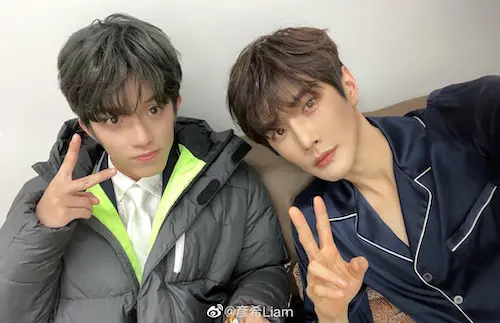 As the rumors started going viral, it prompted Liam to address the accusations in a live stream with fans on May 25. Liam claimed that he was drinking at a bar next to the store. When he went to the restroom, he passed by the boutique and went inside. He saw a ring he liked and wanted to buy it, but there were no sales associates at the store at the time. Liam saw that it was the same security guard for the boutique and the bar so he figured it was owned by the same owner and were connected. He took the ring back to the bar and paid for his bar tab and the ring together.
Liam claims he thought he had clearly communicated to the security guard that he was going to pay for everything together, but because he drank alcohol that night, he wasn't sure if the security guard understood what he was trying to do. Liam explained he paid around 3000 RMB for the bar tab and the ring was only a few hundred dollars. He denies stealing and claims that if he did steal, he would apologize and compensate more money. Liam had wanted to communicate with the store owner directly, but they rejected his request.
The store owner later said, "As he wished, he has already admitted to theft and is coming to the store tomorrow to apologize to us and compensate." Yan Xi posted a receipt of the bar tab he paid from that night in his comments section and said, "Didn't admit to anything. Currently in the progress of investigating. Kindly ask everyone to stay calm." Fellow "Youth With You 3" trainee, BoogieFISH, left a comment saying he absolutely doesn't believe Liam would maliciously steal despite him not being at the scene as they were roommates for half a year.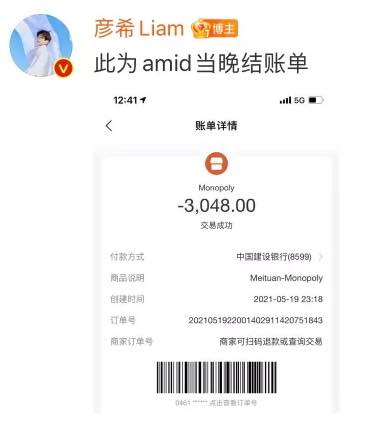 Later that day, Liam's studio issued a statement saying, "both parties have already communicated several times and resolved the misunderstanding. The initial content is also already deleted from each platform. Didn't even want to take up public resources so we didn't tell everyone immediately after the issue was handled. However, some of the false information online and even malicious guidance has already created extremely bad impact on our artist, Liam. In the event the incident amplifies, our company will take legal action."
The store also posted, saying, "This incident was a misunderstanding. Mr. Yan xi didn't commit theft. Sorry for taking up public resources."

According to rumors and pictures of Liam's home, he seems to come from a wealthy family. Some of the "Youth With You 3" trainees were once asked who would be willing to lend them money without hesitation. Lian Huaiwei said he would ask Liam, saying, "He might not even ask you to repay him. You ask him to borrow 10,000. He might lend you 20,000."