Tencent Video held its 10th anniversary gala on June 7. Aside from the commemoration, Tencent invited some of the stars of its much anticipated upcoming series to promote the dramas. Guests included Yang Mi, Dilraba, Crystal Liu Yifei, Xiao Zhan, Leo Wu Lei, Chen Xiao, Zhao Lusi, Vengo Gao, Xu Kai, and more.
Tencent also released first look trailers of the following series with English subs.
"The Longest Promise" starring Xiao Zhan and Ren Min
The series revolves around the passionate and righteous princess of the Red Clan, "Zhu Yan" (Ren Min), and the lonely and cold prince of the Kongsang Dynasty, "Shi Ying" (Xiao Zhan), who is also a priest. Because of fate and a combination of factors, the two of them become master and disciple for three years. The return to evil rises and Kongsang succumbs. Due to misunderstandings, "Shi Ying" thinks "Zhi Yuan", the merman that grew up with "Zhu Yan", is the sea emperor. "Shi Ying" personally seals "Zhi Yuan". In order to avenge "Zhi Yuan", "Zhu Yan" took the jade bone and stabbed "Shi Ying", fulfilling a prophecy. "Zhu Yan" uses fresh blood to bring back "Shi Ying". When "Shi Ying" comes back to life, he gives the key to break "Zhi Yuan's" seal to "Zhu Yan". "Shi Ying" finally understands one person's fate will be influenced by many factors. They resolve their misunderstandings and fight together to discover the true enemy from the Ice Clan that has been planning to bring down the Kongsang Dynasty.
At the press conference, Xiao Zhan revealed he spent a lot of effort this time and "It'll be a Xiao Zhan that everyone has never seen before. I believe 'The Longest Promise' won't disappoint everyone."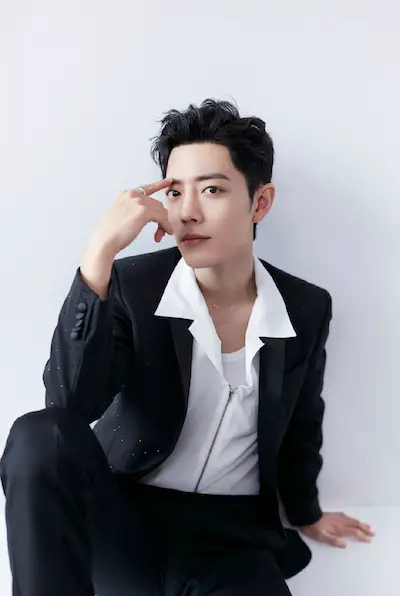 "You Are My Glory" starring Yang Yang and Dilraba (by age order)
Dilraba stars as "Qiao Jingjing" (乔晶晶), a well known celebrity who has a lot of different personas. One day, one of her personas is exposed. Someone intentionally puts up a clip on the internet of "Qiao Jingjing" playing an online game she endorses, which reveals she is actually a bad player. This doesn't match with her role as the game's spokesperson. Out of fear "Qiao Jingjing" won't be renewed as the spokesperson, her manager signs her up for an online game competition. During this time, "Qiao Jingjing" focuses training hard on playing games. It's this decision that led her to encounter her crush from high school, "Yu Tu" (于途), through the new online game, "King of Glory" (王者荣耀).
Yang Yang plays "Yu Tu", who was the school's most handsome male student and ace student back in the day. While "Qiao Jingjing" keeps on shining, "Yu Tu", who once rejected her in high school, keeps a low profile even though he is an elite gamer. When the two encounter each other again through "King of Glory", their romance begins to develop.
At the press conference, Dilraba said, "This is the first time I saw the trailer. How does it feel sweeter than when we were filming? It's really sweet. Every scene is very sweet!"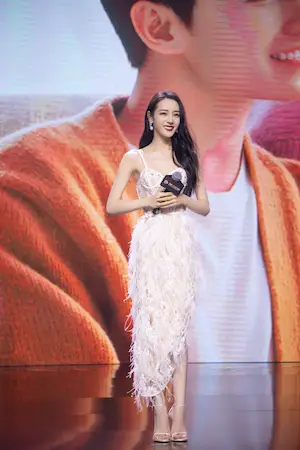 "Who Rules the World" starring Yang Yang and Zhao Lusi
The storyline focuses on the legend of a wuxia romance between the elegant and unparalleled "Feng Lanxi" and the unique beauty, "Bai Fengxi". "Feng Lanxi" single handedly established the Mo Yu Qi and has gained recognition in Jianghu. He is a prince of the current dynasty, which is unknown to the people that love him. Due to some strange events, "Feng Lanxi" and "Bai Fengxi", who has the same amount of popularity in Jiang Hu, get married and spend 10 years together. After 10 years together, their love blossoms from blood. After a huge war, "Feng Lanxi" finally recognizes his true feelings and releases his own cultivation to save "Bai Fengxi".
"She & Her Perfect Husband" starring Yang Mi and Xu Kai
Yang Mi stars as "Qin Shi" (秦施), a single lawyer who is solely focused on her career, but is always vigorously forced by her parents to get married. A top level law firm, "Cheng and Hui", are publicly recruiting for a family lawyer who needs to be married. "Qin Shi's" second older brother, "Qin Wenyu" (秦文宇), an unreliable headhunter, submits her resume, but changes her marital status to "married" and invented a nonexistent husband without her permission. "Qin Shi" ends up getting hired without any knowledge of this happening.
"Qin Shi's" outstanding performance gets noticed by the founding partner of the law firm, "Lao Jin". At a business event, "Lao Jin" recommends "Qin Shi" to be the legal counsel for the Women Entrepreneurs' Association, which is when "Qin Shi" finds out she is already married. When she decides to clarify the situation with "Lao Jin", her "husband", "Yang Hua" (阳华), played by Xu Kai, suddenly appears.
"Blossoms Shanghai" starring Hu Ge
Other trailers released include Hu Ge's "Blossoms Shanghai" that chronicles the trial and tribulations of Hu Ge's "Abao" with the rise of Shanghai from the 60s to the 90s.
Leads were also officially announced for the following series: