China has gone through four disbandments of survival show groups in three years. The first started with "Idol Producer's" NINE PERCENT on October 6, 2019, followed by "Produce 101 China"s Rocket Girls 101 on June 23, 2020, followed by "Youth With You's" UNINE on October 6, 2020, and finally, "CHUANG 2019's" R1SE on June 14, 2021.
On June 8, 2019, 11 trainees, Zhou Zhennan (周震南), He Luoluo (何洛洛), Yan Xujia (焉栩嘉), Xia Zhiguang (夏之光), Yao Chen (姚琛), Zhai Xiaowen (翟潇闻), Zhang Yanqi (张颜齐), Liu Ye (刘也), Ren Hao (任豪), Zhao Lei (赵磊), Zhao Rang (赵让), debuted as part of the group, R1SE, which stands for:
R-Run-奔跑
1-No.1-第一
S-Sun-太阳
E-Energy-能量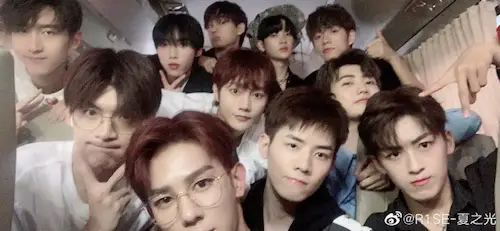 As the days were counting down, a few members had already established their own studios. While R1SE was set to graduate on June 8, 2021, the day they debuted on "CHUANG 2019" two years ago, Wajijiwa adjusted the date for the group to officially disband on June 14, 2021 at midnight. R1SE held their "R1SE Farewell Concert Limited" on the eve of their disbandment. It was all tears for the 11 members and Twelves, the group's fandom name.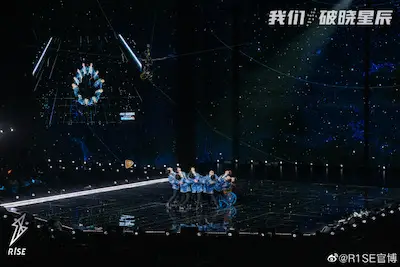 The group performed a medley of their songs, including their last album, "Before Sunrise". However, it was when each member gave their speech that the tears started streaming down. Even though the group was plagued with many controversies and scandals, they still committed to being R1SE.
During the speeches, R1SE's leader, Zhou Zhennan, said "Brought a lot of trouble to everyone in these two years. ..R1SE means all of my youth to me." After the concert ended, each member posted their farewells.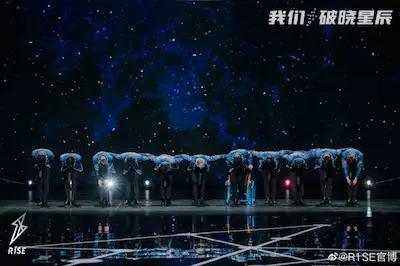 Zhou Zhennan mentioned, "I still didn't say I love you guys even in the end." He Luoluo expressed that the members would joke about the disbandment date saying, "There is still a lot of time.", "We are just graduating, not disbanding." Yan Xujia said, "We are a group chosen by Twelves." Xia Zhiguang posted their first and last selfies as a group and said, "Hello everyone, we are R.1.S.E, R1SE. Goodbye.", Yao Chen said they thought about renewing the lease to the dorms, "but the contract was already stamped before we moved in. Can't change it. This team, R1SE, is said to be a two year limited group, but in fact, it is my only group." Zhai Xiaowen posted a few pictures and said, "Goodbye." Zhang Yanqi said, "Hope everyone won't forget we once climbed together." Liu Ye wrote a handwritten letter and said, "Goodbye R1SE's Liu Ye. Hello, Liu Ye. It's another new beginning." Ren Hao said, "We must remember we will always have a family called R1SE." Zhao Lei wrote, "These two years of growth are excellent and also appropriate." Zhao Rang said, "There is nothing that makes me more proud and at the pinnacle than being R1SE."
Happy Graduation, R1SE!