China's first true BL drama, "Addicted" (上瘾), set the stage for several other drama adaptations until the government clamped down on the genre. While the series brought instant stardom for the leads, Johnny Huang Jingyu (黄景瑜) and Timmy Xu Weizhou (许魏洲), they were also banned from appearing together. To this day, Johnny Huang and Timmy Xu still haven't appeared in the same frame together or interact with each other publicly.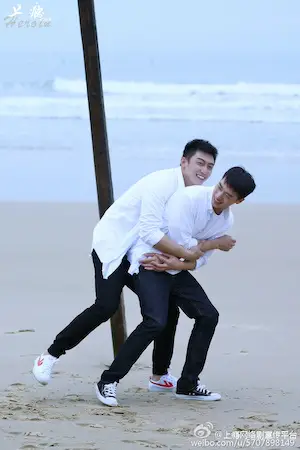 Even though it has been 5 years, fans of "Addicted" and "YuZhou" CP fans have been asking for a sequel with the original cast. Back in June 2019, the author and producer of the series, "Chai Jidan", teased fans with a picture of her filming another BL series in Taiwan. When fans asked if it was the second installment to "Addicted", she responded that the second installment was filming in Taiwan. Fans were worried and left comments saying she would never film "Addicted 2" unless it was with the original cast. Chai Jidan assured them that it was an entirely new script she wrote, hinting that it wouldn't involve the characters from "Addicted". However, there has been no updates about the series. That post has also been deleted from her Weibo.
Fast forward to June 3, 2021, there were several rumors circulating "Addicted" would be remade into a series called "Innocent Playmates" (三小无猜). A casting sheet revealed YOUKU and Fei Bao Media is producing this series that will have 24 35-minute episodes. It's set to start filming in June 2021 for 90 days in Beijing. The casting sheet also revealed the character descriptions they are casting. The two male leads sound very similar to "Gu Hai" and "Bai Luoyin" from "Addicted".
"Su Yu": His mother remarried when he was young age and left him growing up in a single parent family raised his father. Because of this, he is a loner, cold and aloof, competitive, sticks to his principles, and doesn't accept others' empathy or pity. He is the school's ace student with good looks and intellect.
"Wu Bi": Because of his mother's death, he's always had a grudge against his father. In addition, he was unhappy with his father remarrying and was determined to break away from his fuerdai (second generation heir) status and be self-reliant. He has a very strong aura and makes people feel like he's very distant and not easy to get close to, but in reality, he is very kind-hearted and attaches heavy importance to relationships. He shows off a different kind of tenderness to people he cares about.
"Li Duo": She grew up in a single parent family with mom, "Zhou Li". She later becomes family with "Su Yu" when her mother marries his father. However, "Su Yu", treats "Li Duo" like his real sister. She is doted on by everyone in the family and mischievous.
As it turns out, Chai Jidan had posted a casting sheet back in April that looked similar to the one that was circulating in early June. However, her name or company wasn't listed on the June casting sheet, but both sheets contained the same filming location, start date, and duration. As for Chai Jidan's casting sheet, it only contained two characters:
Male A: Cold and aloof ace student, height 185+ cm, must be manly!
Male B: Overbearing "zhongquan" (lit. loyal dog, refers to a "gong" that is extremely loyal and protective of their "shou" (uke)), height 188+ cm, must be even manlier!

Chai Jidan wrote in her post that she couldn't cast anyone after seeing hundreds of people for over half a year. She said, "Where are all the good looking newcomers nowadays? Or was it because I had already reached the ceiling in my previous selections and the threshold is set too high???" Many people in the comments mentioned to just cast Johnny Huang and Timmy Xu Weizhou, while some said Chai Jidan had already reached the ceiling by selecting Johnny Huang, Simon Gong Jun, and Jason Xu Feng in her previous works.
On June 27, Chai Jidan posted a picture of incense burning. She wrote, "Already started filming. Thankful to each fan for highly recommending newcomers. Don't listen to rumors, wait for the official announcement."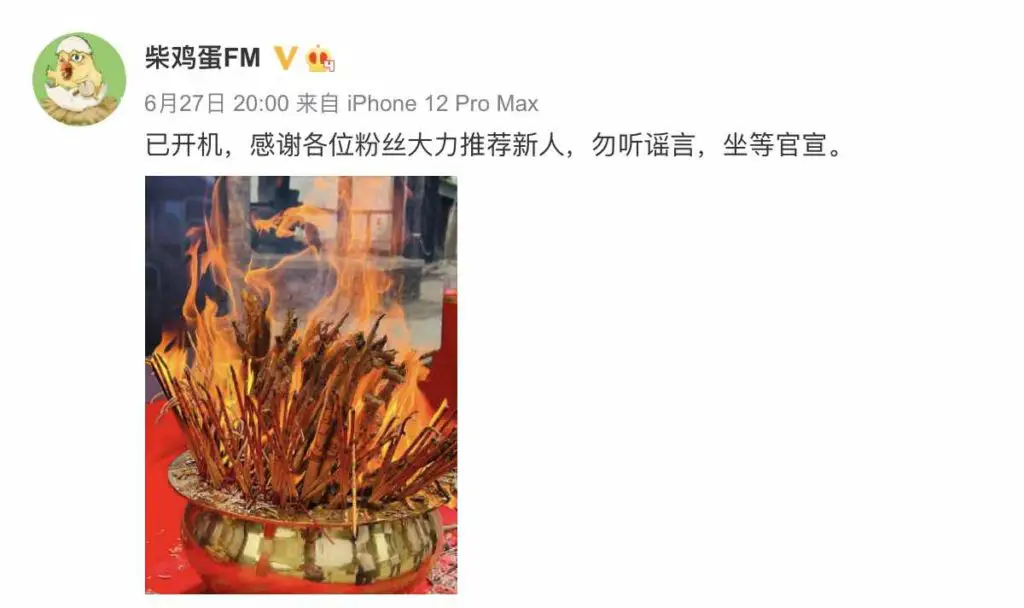 On June 28, yxh accounts noticed Chai Jidan had followed a bunch of survival show trainees and actors that might be casted in her new series.

"Youth With You 3": Liang Sen (梁森), Yang Minghao (杨昊铭, Xu Bin (徐滨)
"Youth With You": Wu Chengze (吴承泽)
"CHUANG 2019": Wu Jifeng (吴季峰), Zhang Jiongmin (张炯敏)
Actors: Borgit (博尔吉特), Guo Xingye (郭星冶)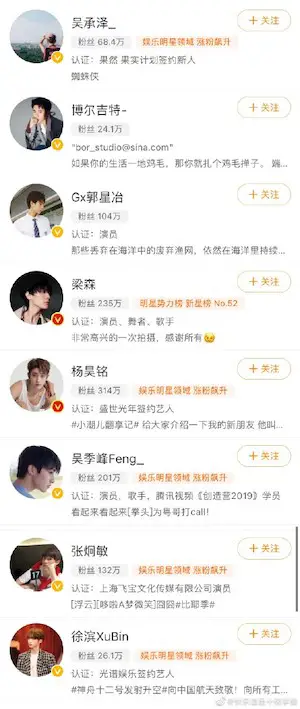 It's still not confirmed if YOUKU and Chai Jidan are working on the same series and whether it's a remake of "Addicted" or not. Netizens were debating in the comments on whether she would be filming an actual BL series or an adapted one without BL elements. However, some netizens claim Chai Jidan would never do an adaptation without BL content and that the fans should trust her.
Credit: Weibo (1, 2, 3, 4, 5, 6)