Actress, Ju Jingyi (鞠婧祎), announced on June 29 the release of her new song with rapper, Jiang Yunsheng (姜云升), who joined bilibili's 2020 rap survival show, "Rap for Youth" However, netizens dug up a live stream clip of Jiang Yunsheng from 2018 where he made sexual comments about Ju Jingyi, creating massive backlash and led to him apologizing.
In the clip, Jiang Yunsheng is streaming with another friend. They are talking about something and then Jiang Yunsheng is heard saying, "What I mean is that when I f*ck Ju Jingyi, you'll be watching on the side." Understandably so, fans and netizens left comments blasting him for making these comments to Ju Jingyi.
On June 30, Jiang Yunsheng issued an apology, saying, "There is nothing to PR (Public Relations). This is an apology. I told you guys before I have made many mistakes. If I'm wrong, I must admit it." He also explained the live stream was from 3 years ago and he was just playing a game and that the content wasn't necessarily malicious. However, Jiang Yunsheng said that looking back at it 3 years later, "There are a lot of problems with this type of game. The biggest problem is that we mentioned unrelated people and people we don't know." Lastly, he apologized to the public, people he mentioned, and his fans. He also said there is no need for his fans to justify anything "because this was a mistake. Must admit to it when a mistake is made."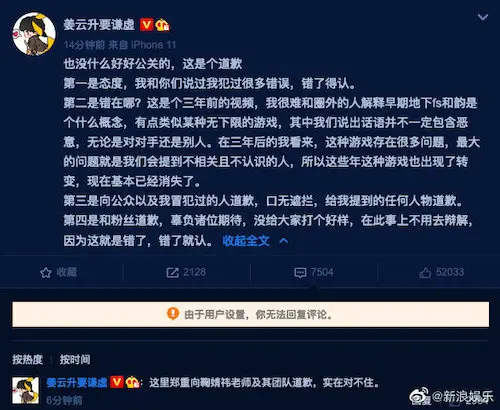 Jiang Yunsheng caught further backlash when he only directly apologized to Ju Jingyi in the comments section, "I solemnly apologize to Ju Jingyi-laoshi and her team right here. Really sorry". Netizens felt he wasn't being sincere for only doing the apology to Ju Jingyi in the comments.