Ever since Yang Mi (杨幂) and Hawick Lau's(劉愷威) divorce in 2018, she has been rumored to be in a relationship with Chinese actor, Wei Daxun (魏大勋), on several occasions. However, the couple has never addressed their dating rumors despite being spotted on a few occasions. The rumors died down a bit since last August until January 21 of this year when several celebrities were dragged into rumors.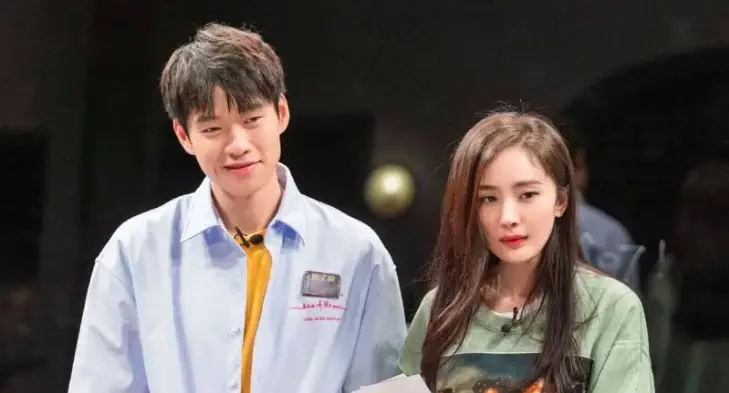 However, in a recent photoshoot and interview for ELLE magazine, Yang Mi said something that seemed to be hinting at her current relationship status. Yang Mi quoted a line from the movie, "Flipped":
Some of us get dipped in flat, some in satin, some in gloss…. But every once in a while you find someone who is like a rainbow, and when you do, nothing will ever compare.

From the 2010 movie, "Flipped"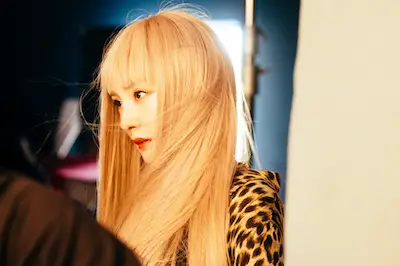 She mentioned she really liked this quote and explained the female lead has never encountered this type of love before and would rather stay single. Yang Mi said, "But there is such a person. There will also be this type of love. I am looking forward to it like everyone else. I am also waiting for my rainbow. I also hope everyone can encounter their rainbow. This is a really beautiful thing. The rain will eventually stop. Once the sky clears, the rainbow will appear. Because there is such a longing, all the previous trials and tribulations aren't considered anything."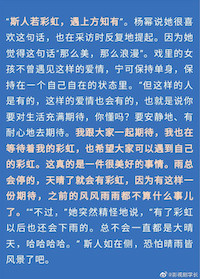 However, Yang Mi also followed up that statement with reality, which is, "However, after the rainbow, it will still rain. It won't always be clear skies. Haha".
After this interview came out, "Yang Mi Wei Daxun" was trending on Weibo. Many netizens were discussing Yang Mi's comments about waiting for her rainbow, which seemed to hint at her being single and her rumored relationship with Wei Daxun to be over.