On the night of July 6, a netizen by the Weibo username, "梦比优斯黑化了", which translates as "Ultraman Mebius has become sinister", made a post saying, "Today is the 36th day I've waited for him and he didn't appear. I will continue to update tomorrow. If I don't get the right to be respected later on, more stories will continue to be released in the future." She also showed pictures believed to be her with a bloody nose, swollen lips, bruises all over her legs, and a hospital report detailing her injuries sustained from a violent assault.
This netizen's claims of being assaulted piqued their interest and led to them asking her to identify the perpetrator. Shortly after midnight on July 7, the netizen said the attacker has never responded to her since the incident happened and that she was just trying to defend herself. She wasn't looking for help from netizens to "solve the case" or trying to pressure him to rekindle their relationship.
Rumors started circulating the attacker is a former trainee from "Youth With You" that finished in top 35. Fellow "Youth With You" trainee, Mars Shen Qunfeng (沈群丰), took the initiative to distance himself from the rumors by posting a picture of him and his girlfriend. He also left a comment on the post, saying, "I am not the man in top 35 and [accused of] domestic violence that is [circulating online]. Just clarifying it." Mars Shen finished in 30th place.
On July 8, the netizen identified the attacker as former "Youth With You" and "We Are Young" trainee and Mr. Tyger member, Zhan Yu (展羽), whose real name is Chen Fu (陈福). Zhan Yu finished 33rd and 16th on "Youth With You" and "We Are Young", respectively. She also included a long post detailing the attacks and altercations with Zhan Yu, the full medical report, her texting Zhan Yu and being ghosted, and a picture of a cracked phone as a result of an altercation with Zhan Yu. She also said, "There is no fabrication. I won't reconcile and won't exploit netizens' emotions to get compensation. I only hope more girls won't be cheated and go through similar experiences. Thank you."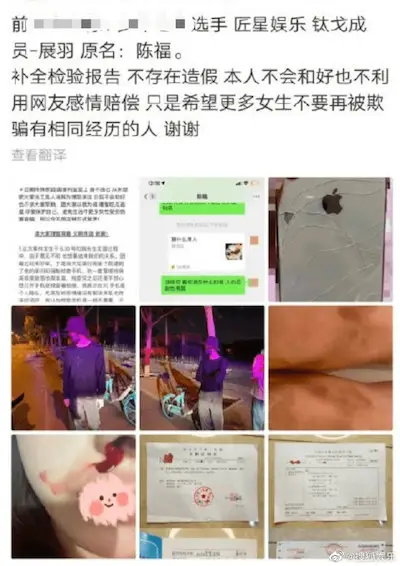 One of the screenshots show Zhan Yu with "Ultraman Mebius" as his profile picture, which would explain his ex-girlfriend's account name, "Ultraman Mebius has become sinister".

She detailed that on May 30, Zhan Yu wanted to break up with her as they were constantly fighting and always disagreeing on things. He kept asking her questions and forcefully checked her phone as he was afraid she had recorded things about him. She claims Zhan Yu wanted to check her photo album, but she refused saying that it was her privacy. They started arguing and Zhan Yu started to film her while running away. So she followed him, but at one point, she lost him during the chase. Out of nowhere, he comes from behind and thought he was hugging her, but he used his arm to strangle her neck while he wrestled the phone from her. During their altercation, he also pushed her to the ground. The phone was also thrown on the floor and cracked badly. She tried to escape, but he grabbed her arm until her clothes were ripped. She said she had no more energy to resist and just gave him the phone.
After checking the phone didn't contain anything, she wanted to talk to him to resolve things. He responded by running home. She called him and he only came down 10 minutes later after he knew no one was around. According to her, he was afraid she called the police on him. He still wanted to check her phone and he did to make sure everything was deleted. They later went to a store to buy a charger as he wanted to check her other phone. He then brought her to a basketball court and told her that he couldn't handle this himself and called his manager. When his manager arrived, he reportedly told her that she was harassing Zhan Yu and that he would give her 10 minutes to talk it out with him or he would call the police.
Zhan Yu then told his manager that she was harassing him and forced him to meet her to talk. He couldn't resolve it and told his manager to call the cops. When the police arrived and asked what their relationship was, she said they were exes, but Zhan Yu refuted it and said, "Who has former relations with you? Only each other." The police said they could either resolve it privately or file a lawsuit with the courts. She said they can resolve it and said there is no need for it to get so serious. She claims Zhan Yu also felt the severity of the situation and told the cops they would settle it on their own and let them leave.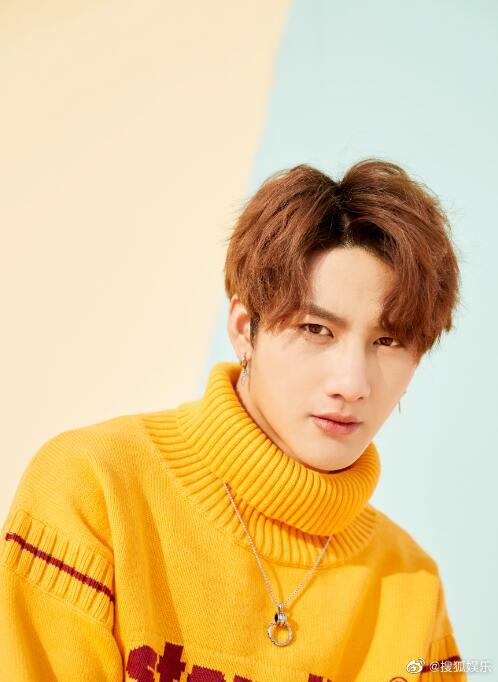 She followed up with two video clips, one which she named, "Keep Running, Scumbag". In the caption of the video, she said, "After he attacked, I was really mad. I chased after him. He got scared and escaped. After I caught up to him, he started filming me and said I will expose you and let the company see. Feeling helpless, I started filming him in case of need. Then he stole my phone and threw it on the ground." In the second clip, it shows the police and Zhan Yu's manager at the scene. The police officer is asking Zhan Yu for his phone number and he responds, "Can I input it for you?".

Video 1: https://weibo.com/tv/show/1034:4656724926464089?from=old_pc_videoshow
Video 2: https://weibo.com/7629123408/KnNPkhPBE?from=page_1005057629123408_profile&wvr=6&mod=weibotime
Zhan Yu started trending with the hashtag, "Zhan Yu domestic violence". Zhan Yu's management company, STARMASTER, issued a statement saying the online allegations against Zhan Yu are false. They claim Zhan Yu and the netizen met two years ago and are only friends. They said she constantly harassed Zhan Yu in the past year through WeChat and phone calls demanding they be together. STARMASTER said Zhan Yu and his manager called the police in the early hours of May 31 to resolve the "harassment", but said talks failed as "the other party lost control of their emotions" and can provide the proof as needed.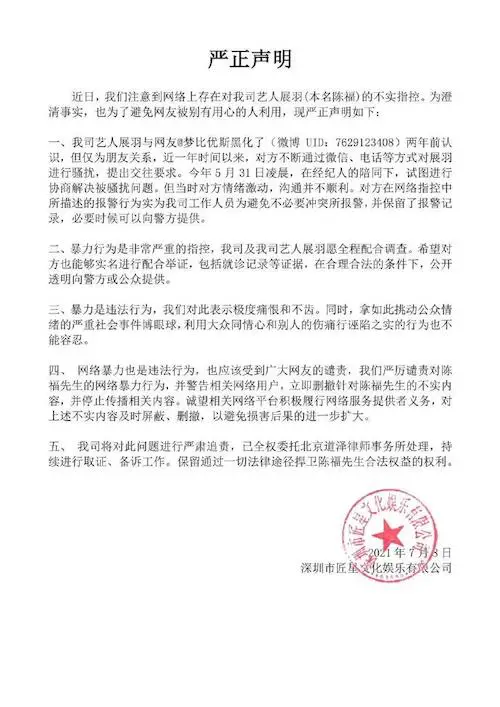 STARMASTER also said the assault claims are severe allegations and that the company and Zhan Yu are willing to fully cooperate in the investigation. They also asked that "the other party can provide evidence with their real name including the medical report and other evidence in a legal and transparent manner to the police or the public."