After 18 year old college student, Du Meizhu (都美竹), dropped a bombshell on July 8, in a lengthy post alleging Kris Wu (吴亦凡) and his studio lured underage girls under the guise of looking for music video female leads and signing new artists. Kris Wu's studio responded with a legal statement denying all the allegations and saying they will be filing a police report and suing Du Meizhu for defamation and damage to his reputation.
On July 9, Du Meizhu posted again seemingly in response to the public's reaction and Kris Wu's team bringing a lawsuit against her. She wrote, "We just want a simple apology, why is it so hard….Experienced so many things this month. I don't want to make such a big deal out of this situation. I couldn't bear it time after time. I didn't want to expose the names of so many victims. However, the answer left for us is yesterday's understated warning…I felt so disheartened that there was no need to endure it anymore…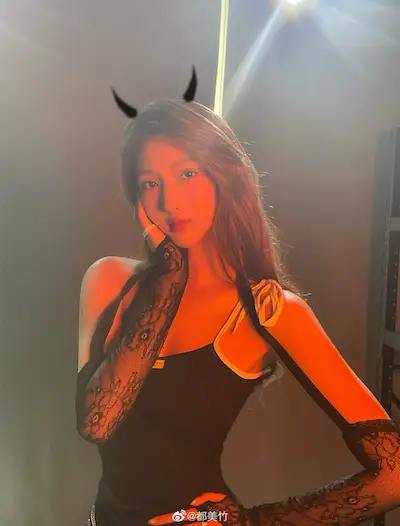 I understand there are people who don't believe me, but I want to say, it's already gotten to this point. If it's fake, why would I need to play hardball? Justice will prevail. I am thankful for being born in China and growing up in China. All the laws and regulations are comprehensive allowing me to be a person who needs to tell the facts and use the facts to speak.
Whoever did it must assume [responsibility]. Since you've done something like, no matter how well it was protected, there wouldn't be no clues to be found. Since the situation has come to this point, I don't have anything to consider either. I am preparing to report the crime and submit all the material to the police. We will actively cooperate with the police to find out the real name or location registered to the Weibo and WeChat accounts and find out the identity of the registrant and more. In these two days, I will bring evidence along with other victims with similar experiences to cooperate with the police investigation together."
At the end of the post, Du Meizhu tagged the official Weibo accounts of the China Police Department and the state ran newspaper, People's Daily.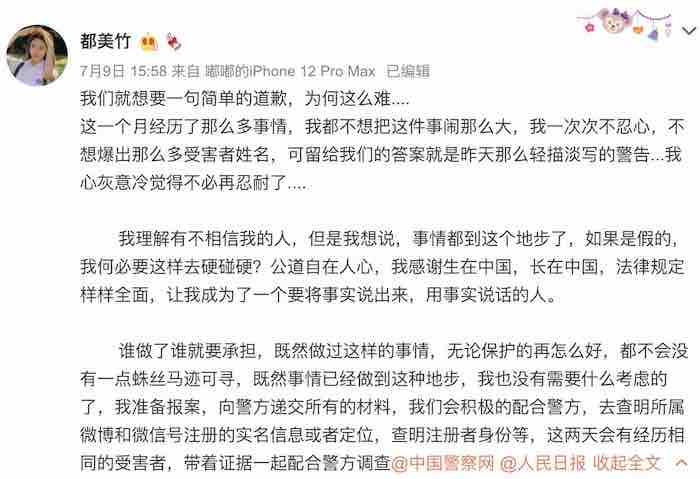 Majority of the comments on that post were in support of Du Meizhu. However, there are yxh (marketing accounts) raising suspicions about Du Meizhu's motives and attempting to discredit her. There is a netizen's account of Du Meizhu allegedly once selling him a fake Burberry bag. The buyer reported her to the police, but she wasn't charged as she was a minor at the time, so they only froze her Alipay account.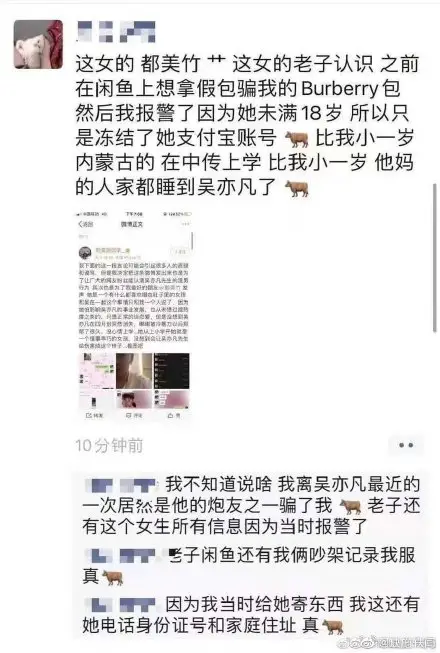 It was also discovered that Du Meizhu had reportedly opened her Weibo online shop and created a Xiaohongshu account on July 7, a day before she revealed those allegations. Netizens claim Du Meizhu kept mentioning her foundation and lipstick shades when no one asked about it during her live, leading to suspicions that she is trying to gain exposure for her shop and trying to sell goods with this incident.
Kris Wu and his team haven't responded to Du Meizhu's latest post.