Former "Youth With You" and "We Are Young" trainee, Zhan Yu (展羽), was accused of assault by a netizen claiming to be his ex-girlfriend on July 8. She provided pictures of her injuries and medical report sustained from the alleged attack from Zhan Yu. She also recounted the entire ordeal of the alleged attack and even provided videos of Zhan Yu and his manager with the police at the scene. Zhan Yu's management company, STARMASTER, issued a legal statement denying all the allegations. They claim the netizen was just a friend of his and that she had been constantly harassing Zhan Yu and forcing him to date her.
On July 9, STARMASTER issued a lengthier legal statement denying the assault allegations. The law firm representing STARMASTER stated the netizen, "梦比优斯黑化了" ("Ultraman Mebius has turned sinister"), exposed the news about Zhan Yu committing an attack against her in order to fabricate the facts and to slander him. They claim the netizen infringed on Zhan Yu's privacy, took advantage of the public's sympathy, and assembled false "evidence" from unknown sources in order to cyber bully Zhan Yu. As for some netizens' interpretation of "domestic violence", it isn't in line with their relationship. The statement also said their legal team has already completed the work of gathering the related evidence. They will be pursuing legal action against ""梦比优斯黑化了" and other violators.
The netizen responded to the latest legal statement shortly after with more evidence proving that she was more than just friends with Zhan Yu. She provided a video with the caption "So called 'friend'", which shows her hanging out in what is believed to be Zhan Yu's room. In the video, she provided captions saying Zhan Yu leaves her alone in his room while he is hanging out with friends or to avoid stalker fans from finding out about them. She also says she can only check her phone when he's not in the room or else he gets suspicious and mad.
Video: https://weibo.com/tv/show/1034:4657085087154204?from=old_pc_videoshow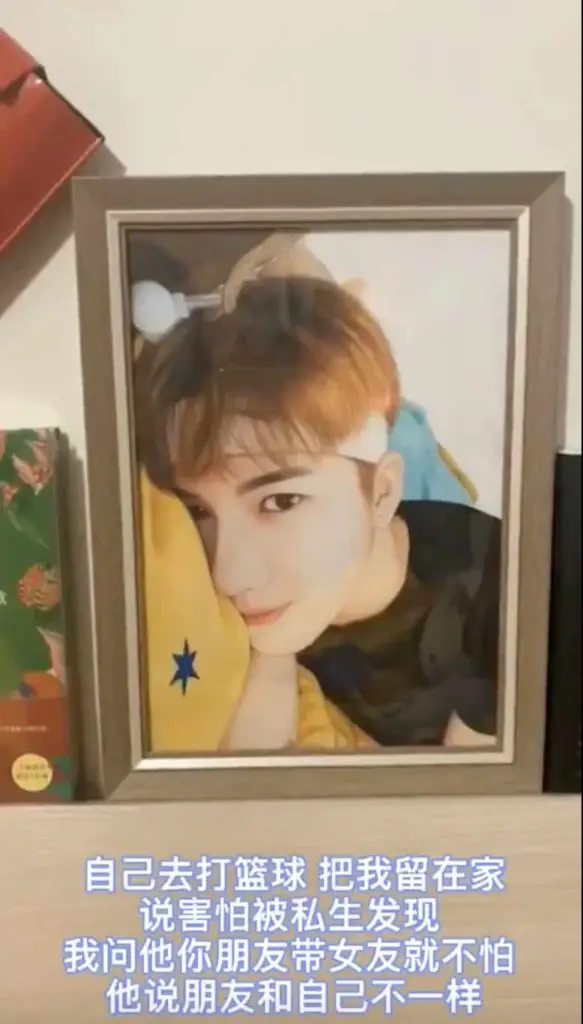 She followed up with another post showing pictures of Zhan Yu and one reportedly of him sleeping. There are also pictures of the notebook he used during "We Are Young". The netizen wrote the following:
More pictures: https://weibo.com/7629123408/KnX4XtPdY
"1. You would let a female "friend" read your diary, often bring her home to date and get intimate, let her meet your brothers, constantly keep in contact with her, constantly video chat on WeChat and chat on WeChat? How many of these "friends" do you have? Chen Fu, you really treat relationships like a child's game? You and your company still won't speak out to this day? The company's statement said I was constantly harassing you. Each word in the statement was written so well! Hope your conscience is clear! The innocent knows they're innocent!
2. It has been 40 days since the assault incident. You still didn't say one word of apology to deal with it. Instead, you're constantly exerting pressure to threaten me and even said I was pestering you. If I was harassing you, there was no blocking, deleting, even reporting it to the police. Instead, you ask me to come out to talk? Your statement said, 'Accompanied by your manager', tried to negotiate…', meaning you brought your manager to ask me to come out and then hit me? May I ask what is your reason for attacking? Your manager only came afterwards. He didn't see you assault me.
After the incident happened, you ghosted me and wouldn't respond to my Weibo posts or phone calls. In the end, said I was constantly harassing you? You were willingly to let me harass you for more than 2 years, which is quite awesome. We don't have any relations, you don't respond and we can still interact for this long? Is this your method of dumping and getting rid of a so called 'friend'? Do you want to continue using this method to persecute your next victim?
So if you continue to threaten me without apologizing, then I can only sorry."
STARMASTER nor Zhan Yu have responded to the netizen's latest posts.