On July 16, a netizen by the Weibo username, "发发爱我2021" (Fa Fa loves me 2021), claimed to be Hua Chenyu's (华晨宇) wife, posted a series of photos and videos that she alleges were of Hua Chenyu getting plastic surgery and a hair transplant. She showed pictures of his alleged "before" pictures, in which she claimed he had work done on his nose, shaved down his bone and jaw, got fillers, and treatment on his skin.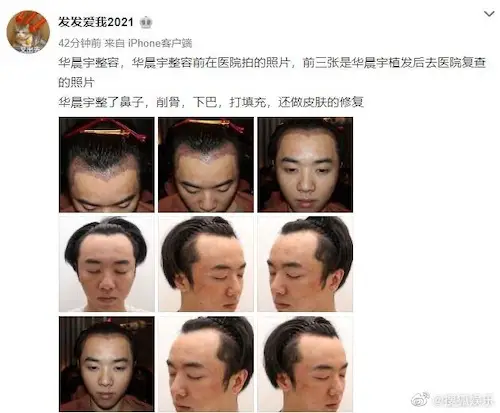 In addition to the plastic surgery photos, she also posted short clips of what she claims to be of Hua Chenyu talking on the bed with her and a video from December 2020 of him allegedly dining with her. She also made allegations that Zhang Bichen, Hua Chenyu's ex-girlfriend and mother of their daughter, was a third party that came between their relationship. In one clip, she said, "The mistress, Zhang Bichen, came between Hua Chenyu's relationship with me. This video is of my husband, Hua Chenyu, after bathing. Zhang Bichen is so scared I'll say she is a mistress, so she already spent money to ban my two accounts from posting."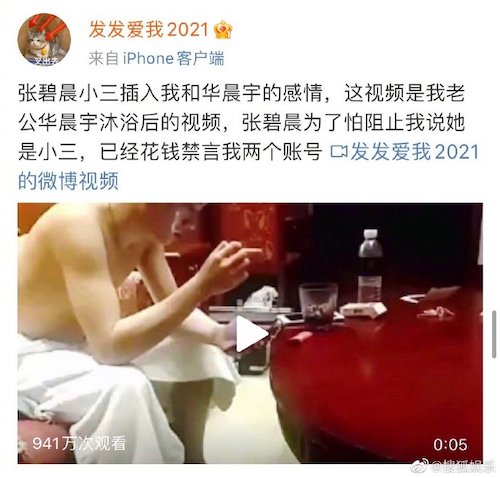 Hua Chenyu's studio reposted a law firm's post which named four accounts, including "发发爱我2021", who claimed to be his girlfriend, have published many false allegations against Hua Chenyu. They also followed up saying, "发爱我2021" continued posting about Hua Chenyu's journey on getting treatment for his skin and other private information, which has seriously damaged Hua Chenyu's legal rights. The law firm also showed proof that they have already filed a lawsuit against the four Weibo accounts and have requested the courts to order Weibo to release the identities of the four account users. Hua Chenyu plans to sue the perpetrators again once their identities are disclosed.
Zhang Bichen's studio also reposted a law firm's legal statement stating they have already filed a lawsuit against "发发爱我2021" and other Weibo users that have participated in sharing the defamatory content about her being a mistress and more. They also said these were fabricated rumors and have seriously damaged Zhang Bichen's reputation.
After both parties issued their statements, user, "发发爱我2021", issued an apology saying that the hair transplant and skin treatment photos were sent to her by someone claiming to be a good friend of Hua Chenyu's former manager, Wang Guihong. She reportedly gave her the former manager's WeChat account and told her to add her. She said she didn't talk to the former manager. Then proceeded to say, "Hua Chenyu didn't get plastic surgery, didn't shave down his bone, and didn't get work his jaw. I apologize to Mr. Hua Chenyu here. I shouldn't have released your private pictures because of my two accounts that were banned. I hope Mr. Hua Chenyu can be the bigger person and won't fuss about it with me." She also tagged Hua Chenyu and said, "Sorry, I was wrong. Don 't be mad." She also claimed to be his fan and reminisced about how Hua Chenyu used to motivate her and passed on the power of warmth and love."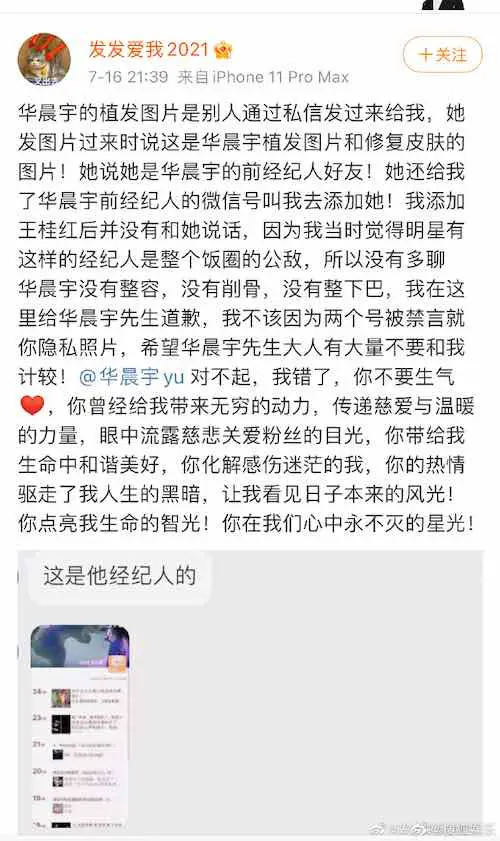 Hua Chenyu's studio issued a statement rejecting "发发爱我2021's" apology and said, "We reject any malicious rumor starter's 'apologies' with no repentance. We also reject any ill-intentioned people who are maliciously driving a wedge between Mr. Hua Chenyu's relationship with his former manager and intentionally put the blame on other people for their own mistakes." The studio also expressed they won't yield or make any comprises and will continue to protect Hua Chenyu's legal rights using the law.
Hua Chenyu's former manager, Wang Guihong, responded to the allegations made by the netizen on July 17, saying that she never saw or recorded any of the videos of Hua Chenyu circulating on the internet and will be suing "发发爱我2021" for defamation.