On July 19, Kris Wu's studio responded to Du Meizhu's allegations and video evidence with a document containing ten clarifications. Many netizens have raised suspicions about the validity of some of the screenshots provided by the studio like the spacing of some of the messages. Netizens pointed out the WeChat profile picture of the staff member from Kris Wu's screenshots is the same one as the person who was chatting with Du Meizhu and who she transferred the money to in the screenshots from the video.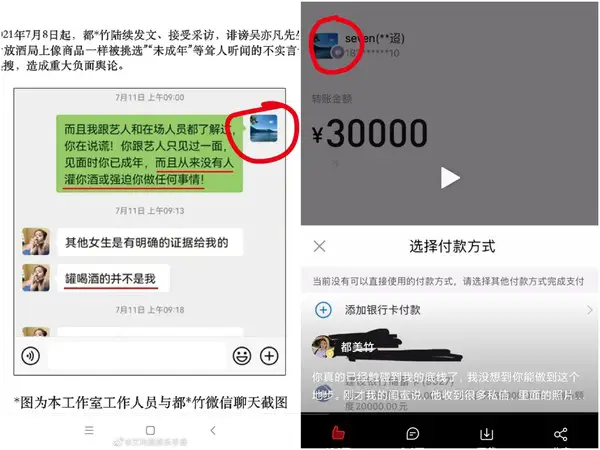 A netizen claiming to be a designer found some of the screenshots to be amiss. They pointed out that the spacing from the last character to the utmost right part of the message box should be equal according to UI guidelines. They typed out two texts from Du Meizhu's screenshots and it showed the spacing to be exactly 44px for both texts on an iPhone 12. They compared it to one of the studio's screenshots and found it odd that not only was the spacing not equal in both texts, but it also reached to 65px.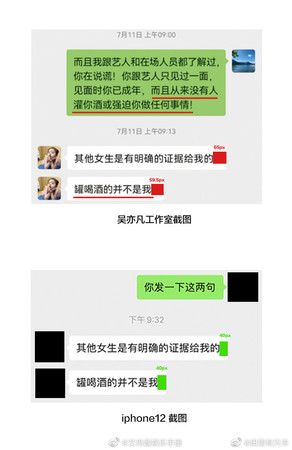 On July 20, Kris Wu's studio issued another document in response to netizen's suspicions and claimed Du Meizhu fabricated the money transfer records in her video.
"July 10:
The studio received 8 threatening emails from Du Meizhu. Mama Wu asked the studio's staff member to reply back to Du Meizhu to get her WeChat contact information.
July 11:
After Du Meizhu and a staff member communicated, aside from providing her own account number, she also provided a third party's account number for a male, "Liu*Tiao" (刘*迢).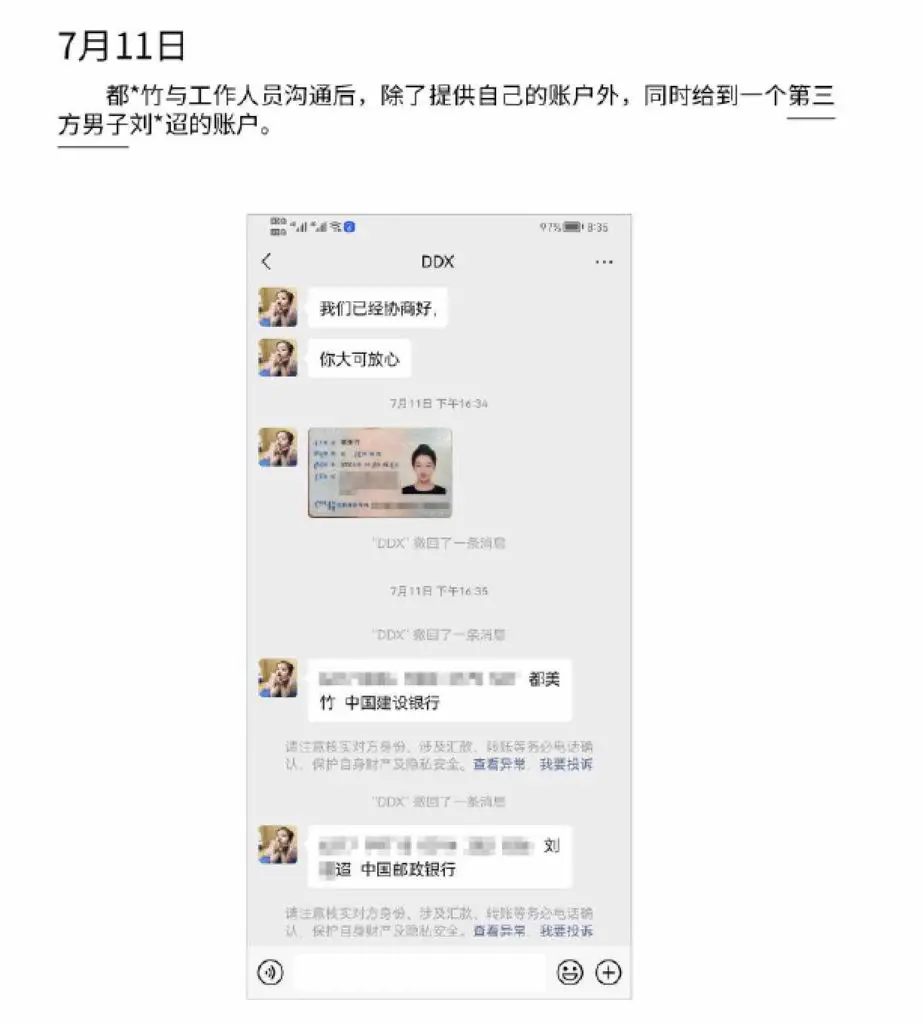 Du Meizhu claims that she would be investigated if they used the company's account to transfer the money to her, she requested to use a personal account to transfer the funds.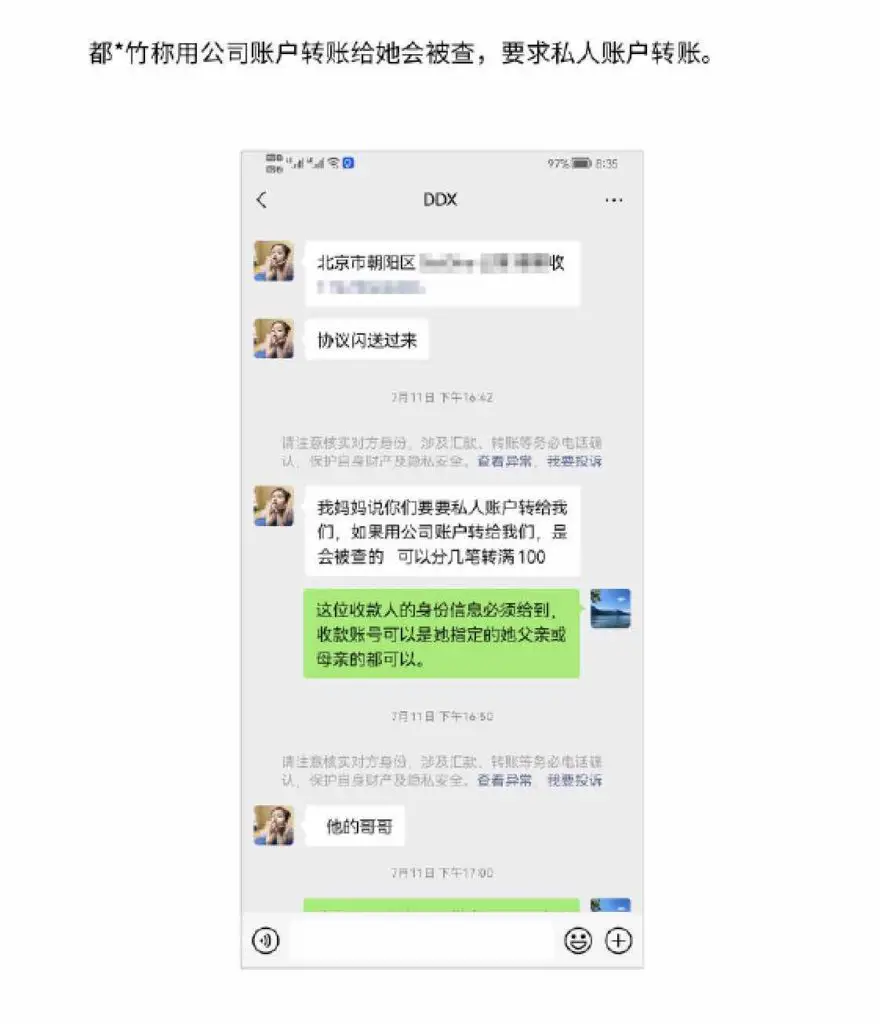 July 12:
Du Meizhu switched to a new WeChat account to continue communications. The staff member has suspicions over the identities of this person and the fund recipient, Liu*Tiao.

July 17:
From the real transfer records in which Du Meizhu obtained to fabricate the video of the "chat records" between her and my staff member, in the screenshots in which she claims she had refunded 180,000 RMB back to the Alipay account, the transfer recipient name was **Tiao, which is identical to the last name and last character Du Meizhu provided for the third party fund recipient.
Du Meizhu didn't refund the 180,000 RMB back to our studio. She only transferred it to the recipient she previously provided, **Tiao. The transfer record screenshots in the video she provided on July 17 were fabricated.
The studio takes legal responsibility for the truthful content in all the screenshots."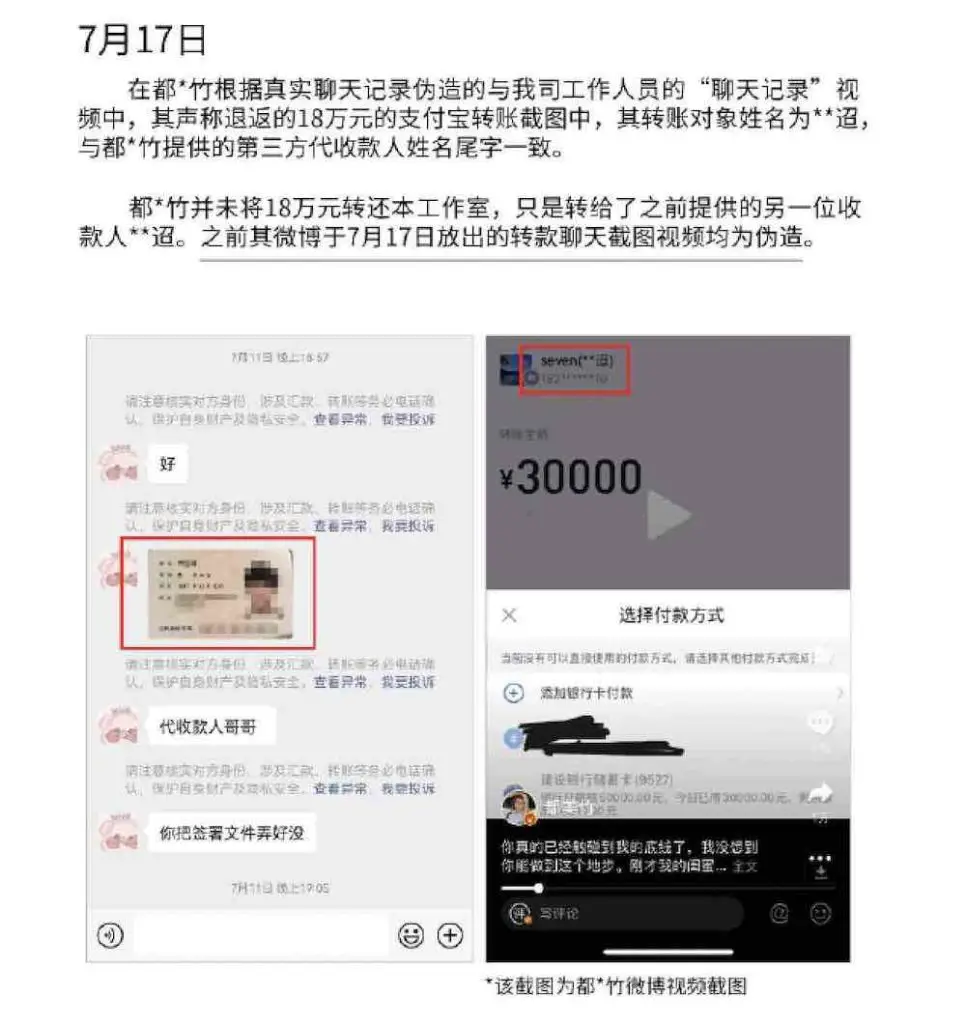 Full document: https://weibo.com/5306969855/KpvdQ5a75?from=page_1006065306969855_profile&wvr=6&mod=weibotime