On July 19, the floodgates were opened when additional girls came forth with alleged proof of being pursued or preyed on by Kris Wu and his team with a similar MO. It's reported at least 24 girls have come forth detailing their experiences with Kris Wu.
Later that night, Kris Wu's studio published a post with the caption, "Clarification", and a document titled, "Ten Clarifications Regarding the Recent Relationship Incident:
1. Mr. Wu Yifan and Du Meizhu met for the first time on December 5, 2020 at a friend's gathering (8 people). During that period, there was no one who was forcing Du Meizhu to get drunk. The other 6 people present at the time can testify in court and to the police.

Explanation: Up until now, only met once.
2. The last time Mr. Wu Yifan and Du Meizhu chatted on WeChat is May 31, 2021.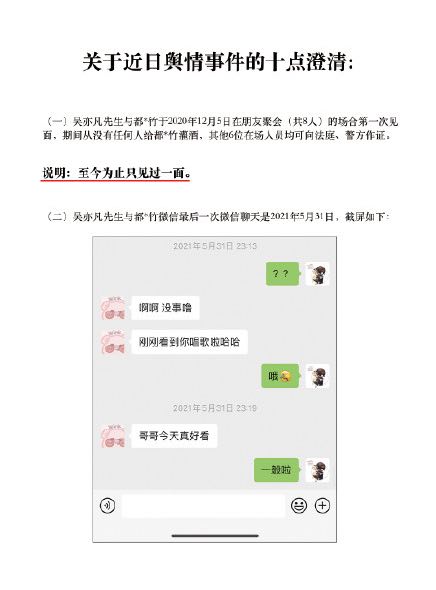 3. June 2, 2021, Sina Weibo user, "Liu Meili Tongxue_" (刘美丽同学_) used her role as Du Meizhu's best friend to denounce Mr. Wu Yifan's "Sudden disappearance in April", "Emotional abuse" and more, is obviously contradictory to the screenshot above.

4. July 8, 2021, Du Meizhu posted continuously, accepted interviews, slandered Mr. Wuyifan saying he "cheated", "put girls' pictures for selection at drinking parties like they are products", "underaged", and more to sensationalize false comments, and continuously lead to several hot searches, creating significant negative opinions.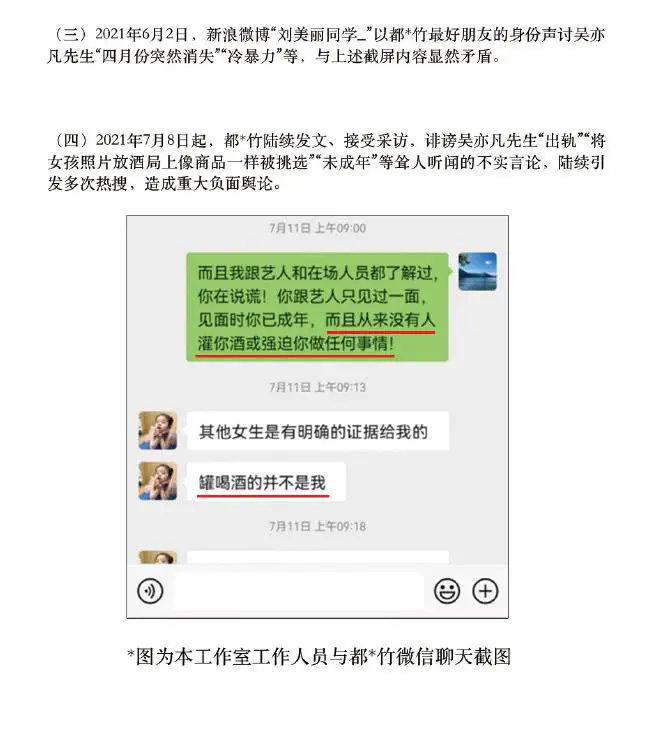 5. July 10, 2021 00:28 – 18:27, Du Meizhu sent 8 emails one after the other to the studio's email in a threatening tone demanding the studio to resolve the matters mentioned above.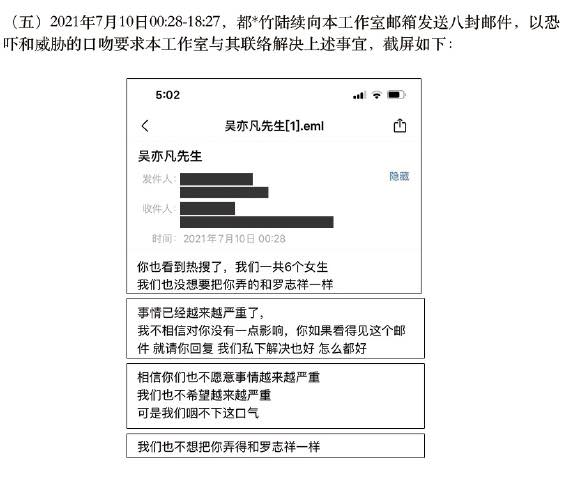 6. Starting at July 10, 2021, 18:27, Du Meizhu communicated with the studio's staff member through WeChat, initiated compensation for 2 million RMB and also initiated to suggest the Weibo posts can be deleted once the studio pays the sum of cash, cancel the Weibo account, will no longer publish any content regarding Mr. Wu Yifan; July 11, 2021, 03:09, Du Meizhu took the compensation amount and raised it to 8 million RMB, claiming "representing other ladies to bring forward their compensation demands at the same time", after the studio refused, Du Meizhu reduced the compensation amount to 5 million RMB. In the end, the compensation amount was decided on 3 million RMB.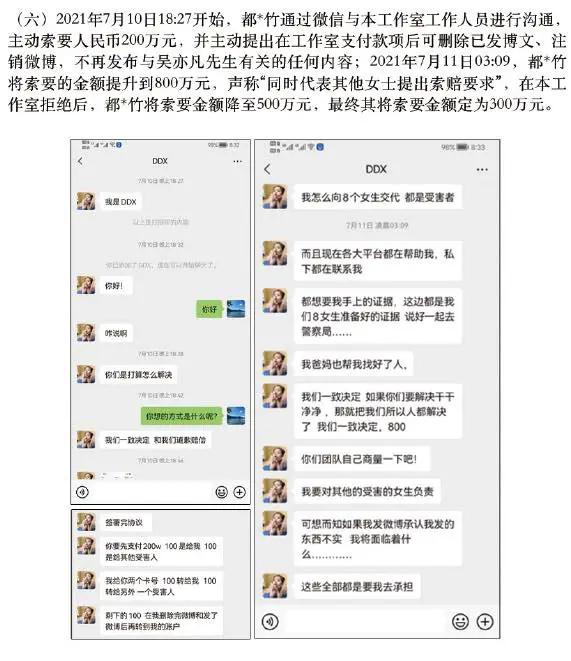 7. Mr. Wu Yifan's mother, Ms. Wu couldn't bear the harassment and threats from Du Meizhu continuously publishing false information. On July 11, 2021 at 17:43, 18:11, Ms. Wu used Mr. Wu Yifan's and her own account to transfer 200,000 RMB and 300,000 RMB, a total of 500,000 RMB to Du Meizhu's account.

8. On July 16, 2021 at 19:58, Du Meizhu published the video of the fabricated WeChat chat records. The account name, "Beijing Fanshi Culture Media" (lit. 北京凡世文化传媒), (WeChat account: TOP992580), displayed on both parties with "Du Meizhu", chat content including "Beijing Fanshi Culture Media" apologizing to Du Meizhu and more are false information.

Statement: The studio has never registered for a WeChat account.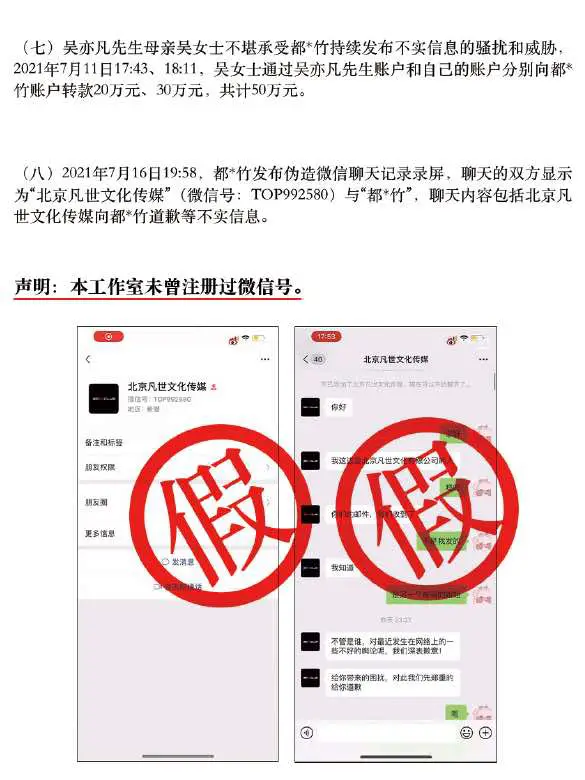 9. On July 17, 2021 at 10:35, Du Meizhu published a fabricated video of Weibo direct messages and chat records. One part of the direct message chat shows as "Fanshi Culture" (凡世文化).

Statement: Our studio Weibo name is "20XXCLUB" and not "凡世文化".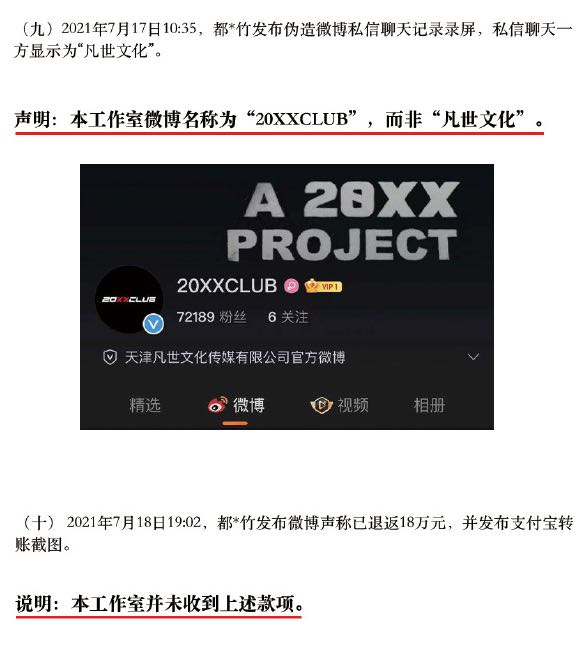 10. On July 18 at 19:02, Du Meizhu published a post claiming she had already returned 180,000 RMB and published the Alipay transactional record screenshots.

Explanation: The studio didn't receive the sum of money mentioned above.
After the studio entrusted lawyers to publish the legal statement on July 8, 2021, we've already started the process to pursue legal responsibility, and the hereby clarification is made."
The Aftermath
Since July 18, 11 companies, including Tencent Entertainment, who produced, "The Golden Hairpin", have terminated their contracts with Kris Wu. Two brands stated their contract with Kris Wu had already expired and was not renewed. That leaves Louis Vuitton, who has expressed they are suspending their partnership with Kris Wu "until the results of the judicial investigation are released.", and L'Oreal, Kris Wu's remaining business partnership, hasn't issued any statement yet. On July 19, it was also reported several companies associated with Kris Wu's cousin, Wu Lin (吴林), where Kris Wu was also a shareholder, were shut down and liquidated.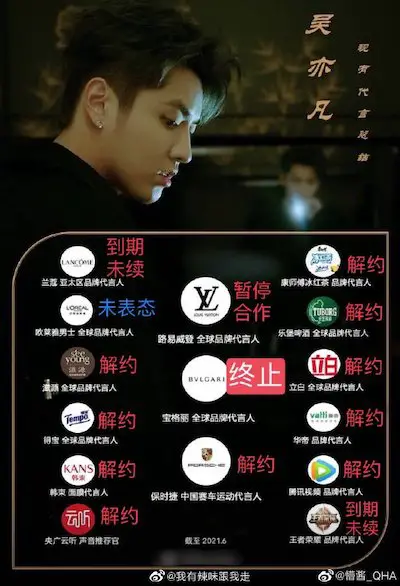 Du Meizhu's current status
It has been two days since Du Meizhu gave Kris Wu the 24 hour ultimatum to leave showbiz and apologize to the victims or she would release more information that would "destroy" him. Du Meizhu didn't make any moves after the 24 hour deadline was up. On the morning of July 19th, many media outlets were unable to get a hold of Du Meizhu. It wasn't until the next morning, Du Meizhu finally posted, but it left netizens worried with her message, "What happened to this world…." with a broken heart. She left two comments on her own post, "I am really disappointed." and "Hope the heavens have eyes." Netizens also noticed the label accompanied with each post changed from saying, "Du Du's iPhone 12 Pro Max" to just "iPhone XS Max", leaving many people to wonder if she lost her account or someone took control over it.