After a verdict for Zheng Shuang and Zhang Heng's child custody battle was reached back in May, Zhang Heng had followed up with a post two weeks later asking Zheng Shuang's fans to let his children go and to stop attacking his family. When he posted about celebrating Father's Day in June, he went into defense mode when netizens commented that he cheated and brought up his financial disputes with Zheng Shuang and the surrogacy scandal again. Zheng Shuang remained silent through all this until July 19, when she wrote a lengthy post apologizing for the surrogacy scandal and asked for a chance to set the record straight.
Zheng Shuang claims she didn't abandon her children and didn't ask about them in fear of the other party recording it and exposing their births. She also said she couldn't ignore the risks brought on by the pandemic. She explained leaving the country to visit them would attract a lot of attention and also risk exposing them. She also claimed she didn't accept any astronomical film salaries and trusted the tax and legal bureaus would give her a fair investigation. She also asked Zhang Heng to stop harassing her online.
Child Abandonment
Zhang Heng retorted to each of her claims in a lengthy post on July 20 titled, "To Zheng Shuang" and said her PR was done well. He wrote, "Let me recount how you abandoned the children. From the end of September 2018, you tried to induce labor for children that were 7 months along from someone else's womb, to October when you decided to force me to cooperate with you to send the children to a social welfare agency (Everyone has heard the audio recording.) and you wanted to use tricks like rejecting to sign the PBO and other means to force me to cooperate with you to send the children away. Then to 10 days before the children were born in December, you and your family still insisted on sending the children away (Everyone has heard the audio recording.). You once posted saying you were impulsive at the moment. Your impulse period lasted quite long, a good few months. It wasn't until the agent sent you an email and threatened you to sign the important PBO documents. If you didn't sign them, you would be considered to be committing child abandonment crimes in California. So you signed the documents because you were forced, you were forced!
Zhang Heng shared emails from the Surrogacy Center allegedly calling out Zheng Shuang for not cooperating with the PBO process and was at risk of committing child abandonment crimes in the US.
As long as I am here, regardless if you sign the document or not, I won't let the children be abandoned, because they are people, a father's most basic bottom line! You want to act like a good mother, if you forgot once saying abandoning the children would be a good deed of limitless merit, let me help you recall it."
Zhang Heng shows an alleged WeChat conversation with Zheng Shuang urging him to give up the children and that it would be better if his parents took care of them. Zhang Heng tells her he will take care of them well, but she tells him that it would be a good thing to help so many families who need a child.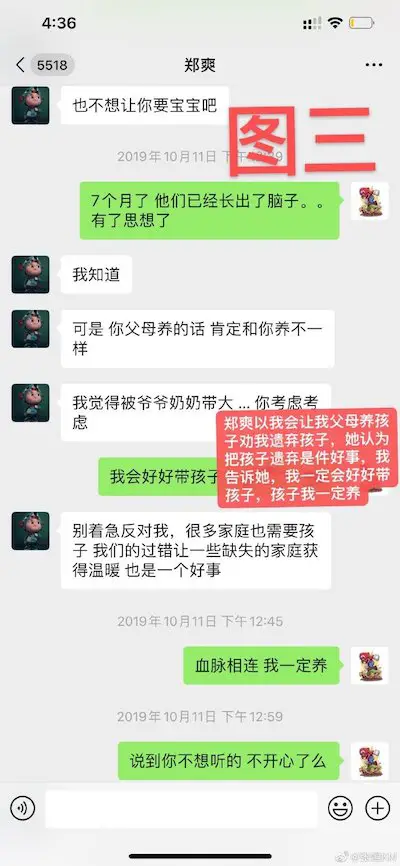 He also refuted Zheng Shuang's claims about the pandemic posing a risk and her using it as an excuse that she didn't abandon the children. Zhang Heng pointed out the children were born in December 2019 and there was no pandemic yet and no lockdowns between the US and China at the time. Zhang Heng revealed Zheng Shuang said in court that she was filming when the children were born and had to be responsible for hundreds of people's livelihoods as the reason why she wasn't there for the birth of their children.
Zhang Heng shows alleged screenshots of a director expressing worry about Zheng Shuang's mental state and her being ready to go on set to film. The text shows this producer saying Zheng Shuang is really impulsive. The person responding is listed as Zheng Shuang's mother who reportedly agreed with the director's words and says it's Zheng Shuang's own fault for being so stubborn and that it can't be blamed on anyone.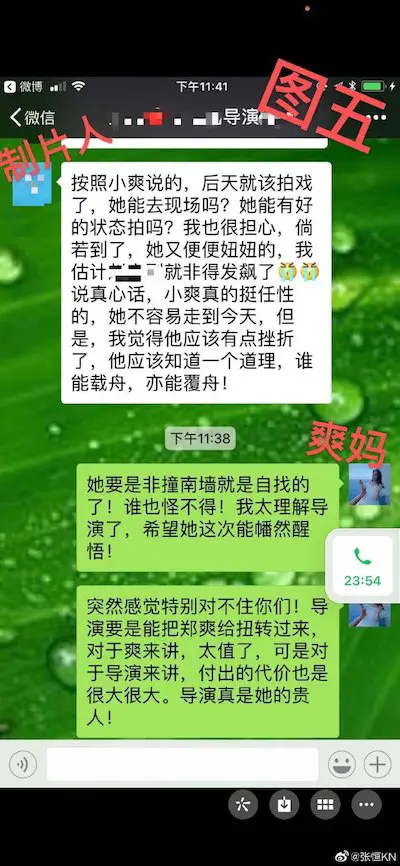 Tax Evasion
Zheng Heng moved on to the tax evasion and fraud investigation Zheng Shuang is still facing. He said, "Seeing your response, 'I didn't take 160 million in film salary. I didn't have a 2.8 million in daily salary.', I am really worried about your mental state. You don't even recognize what you originally said in WeChat. Fund transfer records are missing? Is it memory loss? Did you forget jumping for joy after you received the money? All the evidence I provided to the tax bureau required notarization in accordance to their requirements and are real and valid."
Harassment
As for Zheng Shuang asking Zhang Heng to stop harassing her, he said, "Finished talking about your memory loss, forgetfulness, let's talk about your imagination and your ability to fabricate [things] out of thin air! You said, 'Mr. Zhang Heng, please stop harassing me.' Where do you start talking about this? Because of your abandonment, what I've always wanted has been sole custody. Why I want this is because I can't avoid you! I fear you would go the US courts again and say I 'bullied' you. Your so-called bullying is me not being grateful for accepting your cheating? Throwing away the children is charity, cheating is being responsible to me, what a Buddhist heart! So who is the one that likes to be violent according to your lawyer? After all, I am the one who usually takes a beating. This actually became my strong point. I am also a joke. You let your fans endlessly dox and cyber bully my family, friends and said I am bullying you. Such a talent!"
Screenshot on the left reportedly shows Zheng Shuang telling Zhang Heng she kissed an ex-boyfriend and that the ex-boyfriend felt like he was being cheated on. The one on the right shows Zheng Shuang reportedly telling Zhang Heng that she wanted to try to see if she loved her ex-boyfriend. Zhang Heng says this was happening while they were living together.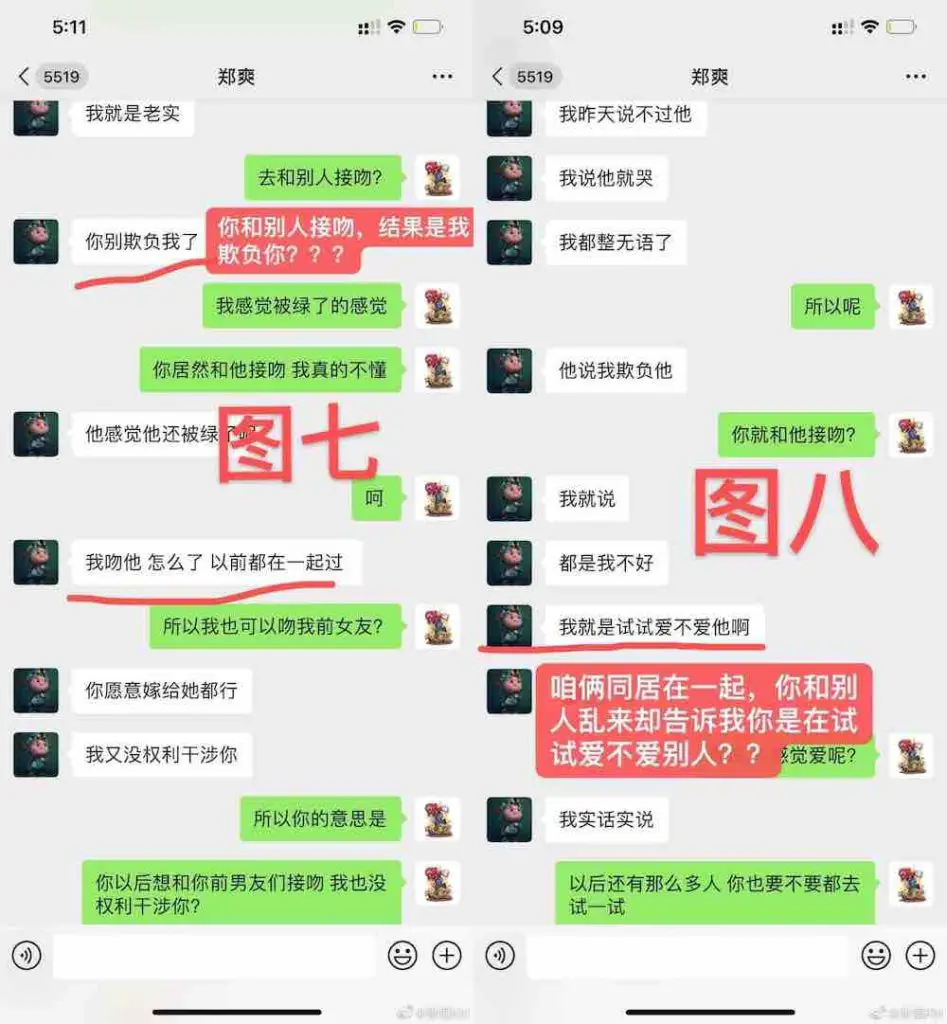 Screenshot on the left: Continuing from the kissing conversation, Zheng Shuang is reportedly telling Zhang Heng not to force her and, "You think I can be easily taken advantage of?" She said she would do the same if she was given another opportunity and, "After all, I've liked him for so long. I kissed him a bit to see if I felt anything. Isn't that being responsible to you?" Zheng Shuang's mother had also previously shared screenshots showing Zhang Heng admitting to cheating on Zheng Shuang and asking for forgiveness.
Screenshot on the right: According to Zhang Heng, it's a list of his good traits that Zheng Shuang sent him. Number 24 on the list: Can take a beating.