Zheng Shuang (郑爽) and Zhang Heng (张恒) continue to go at each other publicly about their surrogacy scandal and other grievances. After Zhang Heng's retort on July 20, Zheng Shuang's studio responded to Zhang Heng's "To Zheng Shuang" post, saying, "Pay tribute to Zhang Heng's hot search".

In a separate post, the studio revealed the police questioned them the prior night (July 19). The studio claims after the police reviewed all the data, they said the other party isn't criminally responsible at the moment, but they still need to hand the case over to the court and wait for the judge's verdict.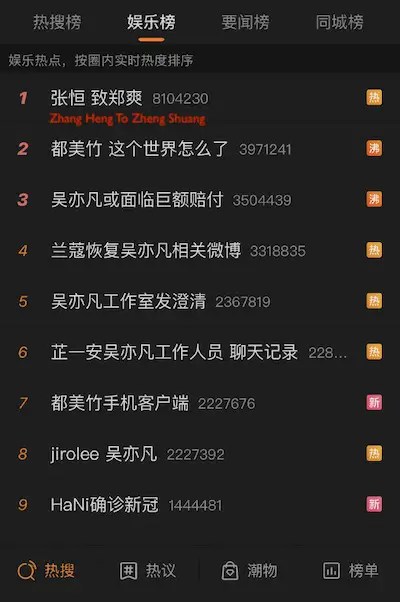 In the early hours on July 21, Zheng Shuang's laid out 8 points on her page:
PR was done well, so all the mistakes don't exist anymore?
Publishing a secretly recorded audio that was edited, is violating other's rights legal?
Whether both parties assume the same responsibility for the surrogacy, why is he frequently trending on the hot search?
It essentially happened in the US, I am willing to bear everyone's criticisms against me. When I found out that surrogacy was considered illegal behavior in China, I had no way of turning back.
I must state the legal boundaries. I am unable to assume responsibility for the large sum compensations the tv dramas ("A Chinese Ghost Story" and "Secret Keepers") are suing me for. Must state the legal boundaries, I'm not taking advantage of a loophole.
Can the tax issues be rebutted according to normal procedures and not determine I am [guilty] of tax fraud and tax evasion [first], then verifying the actual situation afterwards?
If there is infringement under the official media magazine, can't I protect my own rights? I don't dare to refute, [but] it doesn't mean everything is true.
Zheng Shuang then reveals her hardships in the US.

Reiterates that when she talked about complying with the country's laws during the pandemic, it wasn't about surrogacy. It was that she didn't abandon her children according to the US laws or else she'd be committing a crime.
Drinks tap water everyday to survive
She has a total of 5 t-shirts and 2 pairs of jeans.
Never ordered take out before
Has to call Uber to visit her children
Depends on her friends' support for basic necessities
Has to be frugal with the use of menstrual pads and tissues
Would buy scallion, ginger, garlic, leek and fry it with an egg when she craves Chinese food
Money saved is used to buy cherries and blueberries for the kids, the parenting coach fee for each session, and some children's toys.
She has no way of working in the US and therefore, has no income.
She and her family's accounts and assets have been frozen. Aside from her friends, she has no one else to rely on.
Zheng Shuang also emphasized, "I love my children over everything else. I will continue to put all my energy on the children and the parenting classes. I will no longer respond to anything else."