In the last two weeks, the world has been heavily invested in the ever changing developments to Kris Wu's scandal in which he has been accused of alleged sexual assault on underaged girls and other severe allegations. Zheng Shuang (郑爽), might have temporarily diverted the attention away from Kris Wu when she decided to post a lengthy apology at the height of his scandal.
On July 19, Zheng Shuang's studio reposted a post from the China Association of Performing Arts, which had commented about the importance of entertainers having a high moral ground and ethics. In her repost, Zheng Shuang apologized again for the surrogacy incident and asked for leadership and society to give her a chance to set the record straight.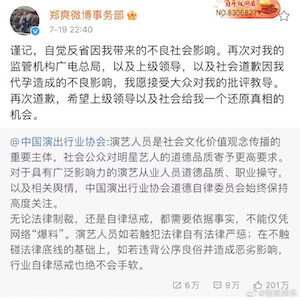 Zheng Shuang also wrote a lengthy post that day apologizing for not addressing her issue immediately and for the impact to society resulting from her surrogacy scandal. Zheng Shuang prefaced, "I already don't have a path to turn back to. I can only grasp the main points of the situation and sort it out.
Children
"First, I cannot expose them or increase any of their risks and the future public opinion they'll face.
Second, I had to sign all documents in order to ensure their births would be smooth. If either party's signature is missing, they would be sent to a social welfare agency.
Third, let them grow up in an environment with adequate safety and not face any quarrels or fights.

After confirming the aforementioned points, I set these rules for myself. I can't ask about the children and increase the possibility for the other party to record it and reveal their births. Under the premise of the pandemic, I can't take any risks and ignore the danger caused by the pandemic. Leaving the country will definitely receive attention, leading everything to be exposed soon. The only thing I can do is to endure it and wait, along with the support of the law. I don't know if the children's futures will be affected by exposing this matter, whether they will be living in the shadows of this matter their whole lives, and how to get rid of the fears they have of this world, only the children's parents can go and help them. In front of the children, I put aside everything, concentrated on taking care of the children, hoping the sensitive children can grow up happily in an environment full of love.

I sincerely apologize for the surrogacy matter. I am willing to accept all criticisms from all sides. Self-reflect on my own mistakes.
Film Salary
"I didn't take 160 million in film salary. I didn't have a 2.8 million in daily salary. The tax bureau has already seized my companies, all my personal and family's financial flow. Public opinion cannot be the final result. I believe the tax bureau will provide results that are fair and won't be impacted by public opinion, and not wanting me to take responsibility for all the public opinion. False reports, letting me tell the facts is far more inferior than the online screenshots of breaking news. This type of matter will never happen. If there are mistakes caused by my negligence or unprofessionalism, I can assume responsibility for the compensation within my ability, but if I have to endure all the public opinion, I don't have the ability, don't have the confidence to accept all the false reports. I kindly ask the country's legal and law bureaus to give me the same handling procedure that is given to a regular person. After the surrogacy incident, it shouldn't have any affect on the development of other things.
Zhang Heng
I kindly request Mr. Zhang Heng (张恒) to stop harassing me, stop all the harassment against my family. I won't publish any video that would disturb the social order, definitely wouldn't try to use illegal videos to destroy his family. Also don't use content about my children and I so you can gain attention on the internet. I will explain that at the moment, I don't have any right to stop you and the children from returning to China. Both parties didn't ask for child support either. I hope you can execute and obey the judge and the legal judgment. Don't harass me anymore.
I am not afraid of anyone's ridicule, slander, and contempt towards me. I only know there are still people who believe and support the facts. I can clearly see everyone's face behind the internet. I am not afraid of each person targeting me. Don't try to use cyber bullying to hurt anyone. The internet has its many facets just like human nature, the bright moments must also have the shadows under the light. Public opinion will always only be public opinion, not facts. I am willing to cooperate for all inquiries, verifications, setting the record straight, and the truth. I only ask that relevant departments won't turn a blind eye at my request for help. Already characterized me before verifying the truth, I ask that society and the media to give me a chance to set the record straight. I will use the rest of my life to pay it back."
Affinity with Kris Wu
Netizens found it ironic that Zheng Shuang chose to spoke up on July 19, the day when so much was going on with Kris Wu's scandal. Zheng Shuang and Kris Wu also collaborated on a variety show last year and she revealed that they both said to each other that they were not suitable for dating.