While the cast hasn't been officially announced yet, leaked photos reportedly from the first day of filming for the "Heaven Official's Blessing" (天官赐福) live action drama adaptation aka "Eternal Faith"(吉星高照) were circulating on Weibo. On July 26, the cast of "Heaven Official's Blessing" held its blessing ceremony and photos were shown of the two leads, Zhang Linghe (张凌赫) and Zhai Xiaowen (翟潇闻), and other rumored cast members, Chang Huasen (常华森) and Liu Lingzi (刘令姿).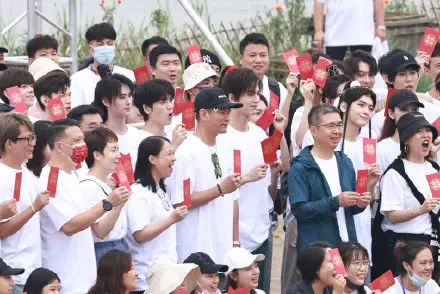 Ever since the news was announced for the live adaptation, there have been several rumors regarding the cast of the series. The main cast seemed to be solidified when over 80 fan sites were created for the series and the leads, Zhang Linghe and Zhai Xiaowen, around June 23. Fans also confirmed they had joined the cast and crew around the same time.
Zhang Linghe is playing "Hua Cheng", while Zhai Xiaowen is playing "Xie Lian". Other actors that were seen heading to work with Zhang Linghe and Zhai Xiaowen include Chang Huasen and Ling Lizhi, who are rumored to be playing "Feng Shi" and "Xuan Ji", respectively.
As fans started to wait for the official announcement, there were rumors that the Chinese name of the drama was changed from "Tian Guan Ci Fu" to "Ji Xing Gao Zhao" (吉星高照), which literally translates to "be blessed by a lucky star". Chinese netizens found the name to be funny as it's usually an idiom used to wish people good luck. However, none of this information has been confirmed yet.
The leaks have led fans unimpressed and complaints about the "cheap" looking costumes and props, which look nowhere near the elaborate design seen in the comics or graphics. However, some fans seem to think these costumes are just a test run before filming officially starts. They offered up the reason that the leaked photos weren't photoshopped to hide the actual costumes.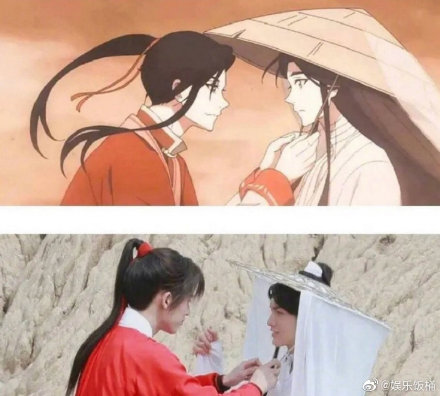 So what do we know about the leads so far?
Zhang Linghe as "Hua Cheng"
Zhang Linghe, whose real name is Zhang Jiawei (张家玮), is a Chinese actor hailing from Wuyang city in Jiangsu province. He graduated from Nanjing Normal University and majored in Electrical Engineering. He turns 24 on December 30. He is 188 cm tall and his fandom name is "han si" (焊丝), which means welding wire. According to his fans, Zhang Linghe knows how to do electric welding because of his major in college so after collecting suggestions from fans, they confirmed on the name "han si". For Zhang Linghe's birthday last year, he received a welding mask from a friend.
He doesn't like to update his social media, especially when he's filming. He might only update during holidays, but even then, it might not happen and fans are used to it. His first series was in the 2020 series, "Maiden Holmes" (少女大人). He is managed by Star Times.
Zhai Xiaowen as "Xie Lian"
Zhai Xiaowen hails from Jinan City in Shandong province. He turned 21 on May 28. Back in February, he revealed his mother brought him to get a physical and found out he was 186 cm, which is 3 cm taller than what he was previously listed on official sites.
He joined the Tencent male survival show, "The Coming One 2" in 2018 and made his acting debut in the 2021 version of the series, "Unrequited Love" (暗恋橘生淮南). He made his singing debut in June 2019 as the 6th member of the time-limited boy group, R1SE, through Tencent's survival show, "CHUANG 2019". The group disbanded in June 2021. He signed a 10 year acting contract with WAJIJIWA Entertainment, who previously managed R1SE. His fandom name is called "Little Penguins" reportedly because when Zhai Xiaowen bows, he looks like a penguin.
The series is backed by iQIYI with "The Untamed" director, Chan Ka Lam, serving as director.